So Craft Hope has been up to good for a while now. Being a teacher I love project 7 with it's educational focus. Currently one of their projects, Project 8 is helping tidy things up with the gulf coast oil spill, another noble endeavor. Here's some of the little blurb about the project,
"Here is what we are going to do… They need hand towels and wash rags to clean all of the nooks and crannies of the dolphins and sea turtles. They only need small hand towels and wash rags, no large towels please.
If you can sew, knit, or crochet this project is for you. We are asking that you create sets of hand towels and/or wash rags to send. Preferably in sets of 10 or 20. These do need to be handmade since we are 'Craft Hope.' If you are crocheting or knitting, please send whatever you can. You don't have to send a set unless it is something you are up for."
If you want to help out with that one, go here for the shipping address. Deadline is July 3rd.
AND now there's a book on pre-order all about the wonderful good Craft Hope has been doing, and some of the crafts in case you're feeling crafty yourself!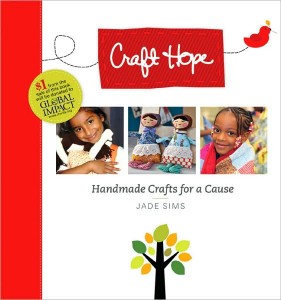 Book blurb: Some of the top designers offer 32-projects that can be made and donated to specific charities. You'll also find helpful tips on how to give locally and globally, how to give thoughtfully and appropriately, and how to empower those you are helping.
Here's the Flickr pool if you want to see what they've been up to in visual form.