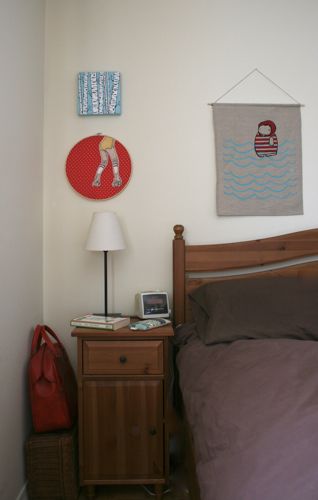 Sunday morning I was the last one down stairs. I could hear hubby making breakfast with the kids and I woke up with a mission. I don't even have a before image to share, it was that embarassing, I used to have a HUGE pile of unread books on my nightstand. I've converted to reading ebooks on my iPad so those books have sat there untouched for over a year. So I went on a mission to clean up and beautify my corner of the room.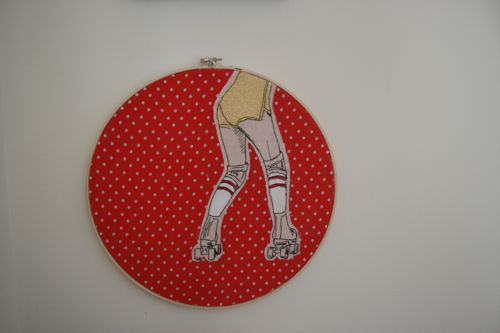 I sorted the books into our yard sale pile and a keep pile. Then I wrote down all the titles of the books and made a pledge that I'll either read them over the summer or buy the ebook and get rid of the physical book. I found them a happy new home, on a bookshelf.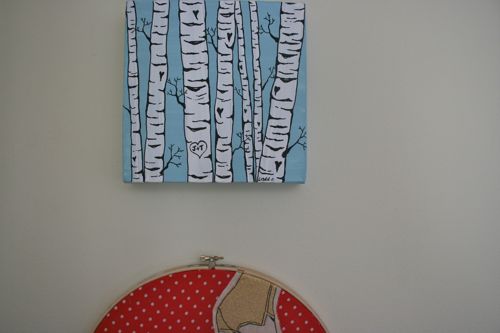 Then I filled the wall space up with my growing collection of handmade art. My glorious Lucky Jackson winnings. This great personalized paining by Lisah and a fun wall hanging from CoucouSalut.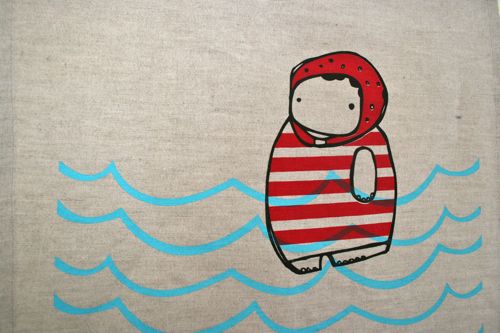 I've still got my beautiful print by Laura Jean on the other wall but I have to get some other things framed before it will be complete. I love the way Laura distresses frames and has them all whitewashed, I'm going to frame my other pieces to match.