Before I was even pregnant I was looking for a neat nursery theme/idea. When our first son was born we were house sitting for my in-laws so we didn't really get to go all out and create a baby room.  The second time around I fell in love with the idea of a room based on the book Guess How Much I Love You by Sam McBratney and with the lovely artwork by Anita Jeram. I had seen an entire crib set on ebay before but once pregnant I searched and searched, finding nothing, I realized that I should have gotten the gently used one I had seen, even though it had been $150 AND we weren't pregnant.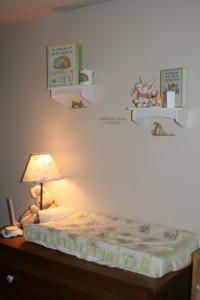 I found crib sets listed online but always hit some lame 'out of stock' message or notice. I forged ahead thinking I'd just sew the bedding. However, I had terrible luck finding fabric. I debated using solid colours for the bedding and use themed accessories decorating the room instead. On ebay I found custom made knobs for the dresser with the characters on them and a light switch plate. I found wallpapers and murals but they were crazily expensive and shipping to Canada was atrocious! I decided I'd just use my projector and paint my own mural.
Finally, as a last ditch effort, I emailed the publishing company. I told my story and asked if they knew where I could get bedding or fabric if need be. A very nice Rob emailed back, the reason is sketchy in my mind now, but something about the one company that printed the fabric and bankruptcy. It appeared I was out of luck. I kept looking hoping to find something used or hidden away somewhere. Then one day I randomly got an email from Rob again. He said they were going to have some sort of big show and would be cleaning out the warehouse and he thought there might be some stuff tucked away that could help me. He promised to email when the show was over. Sure enough he did and sent pictures of all that he had found, and it was a ton!!!! He had an entire crib set, wall stickers, a blanket, a lamp shade, the 2 little stuffed hares, a diaper holder . . . it was amazing!!! There were even colours to choose from!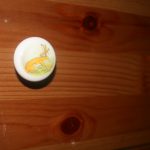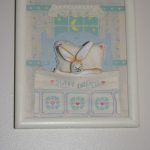 My mom made the little embroidered picture  for me when I was little, a little teddy bear goes in the bed.  I snuck in little nutbrown hare.
We didn't know what flavour our little bundle was but I figured I'd play it safe, and knowing my husbands family I was sure it was going to be a boy. So I took everything he had that was green, gender neutral and the diaper holder which had a blue band at the top but I figured I could remedy that if needed. Since the items were kicking around in the warehouse helpful Rob just had to make up a price he felt was fair. So for the bargain price of $170 USD plus shipping, I was able to decorate the entire nursery!!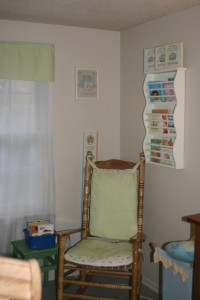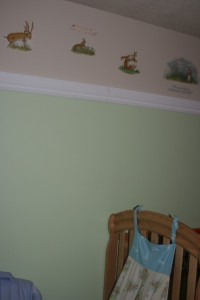 There's the rocking chair cushions, window panel above sheers, and the awesome Pottery Barn book shelf.
There was only one issue. When the box arrived I realised that the 'crib set' was really a set for a small cradle! I had to do some creative sewing. Luckily there was enough bumper pads to cover 3 sides of the crib and I just had to sew one extra panel. There was a fitted cradle sheet set I wasn't going to need to I used that to create the panel, along with cushion covers for the rocking chair and a window treatment. Too bad my son's too little to appreciate it all!