The night I managed to get 4 projects done this was the second one, a baby lap taggie blanket.  I made these for my son about 4 years ago before he was born and I've been making them since to give as baby gifts.  They're the perfect size for in the stroller or car seat.  Something to keep their legs a little bit warm, or out of the sun, and it has fun tags to play with.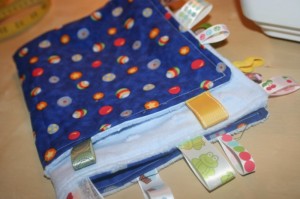 I really like the cute little marbel print on this one.  In the past I've used fleece for the inside, this was the first time I tried that super soft minky stuff.  It was a bit of a pain to work with but it is waaay nicer to touch.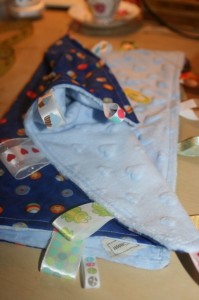 I was at a baby shower yesterday and along with the adorably cute baby girl clothes I shopped for I added in a pink taggie blankie I had made.  I was flattered when it was the only gift passed around the room and everyone 'ooohhh'ed and 'ahhhh'ed over it.