I was struck with an idea last night while in the kitchen with the kids.   I think it might have been inspired by my sewing machine cover on my chair.  I had the idea to make a little pouch thingie for the back of the kitchen chairs to store some creative supplies within arms reach of my son when he's sitting down.  I also figured it would come in handy once he's at school for completing homework, we can keep pencils and other supplies right there and not have to worry and fumble around looking for things.  So I went to my trusty sewing machine once the kiddies were in bed and whipped this up,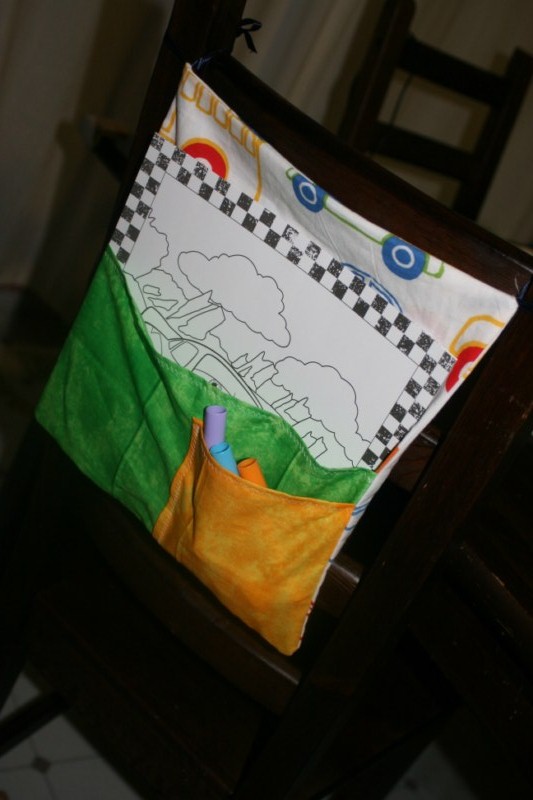 I still need to play with the design a bit, I'd like it to roll up and be portable so you could grab it and go, in the van, to Grandma's off to the park, whatever. I'm hoping to make it fairly universal so it would fit almost any kitchen or dining room chair. It attached with ribbon that I just tied, thought that was more universal than sewing loops. The fabric is from IKEA, I wanted something kid friendly but not too loud and obnoxious for the kitchen. I have no idea how one is supposed to make a pattern but I relied on my trusty chart graph paper and sketched and cut a template out yesterday while the kiddies ran about.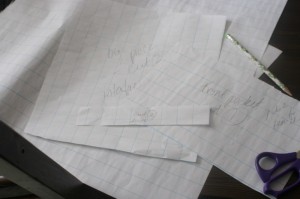 It's a very high tech process. Hopefully I can get to making a second one tomorrow.
In unrelated news, every other Tuesday I have my 'night out' with my bff! Lately I've taken to dragging her to thrift stores. Last Tuesday I found this and loved it!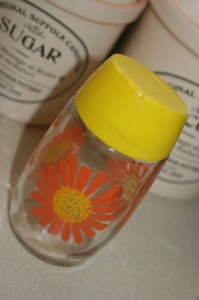 It reminds me of my Nanny and all my summers spent at the trailer at the lake. Trailers and cottages always seem to have random vintage/retro stuff in them like this. Plus my Nanny, like most Grandparents, was happy to keep things around as long as they still worked, even if they were older than me. My favourite was the avocado green electric knife she had that didn't actually turn off unless you unplugged it from the wall . . . because that's safe!! I miss you Nanny, thanks for teaching me to knit and showing me how to cook a turkey, love you.