Well I had a blast at the Mom 2 Mom sale yesterday! Met a lot of great people, sold some things and had a great morning.  It was slow for me for the first little bit, I think people were running like mad to the used goods tables hoping to beat the crowds to the amazing finds. As the morning went on I had some sales and then there was a big rush on my table at one point, it was great!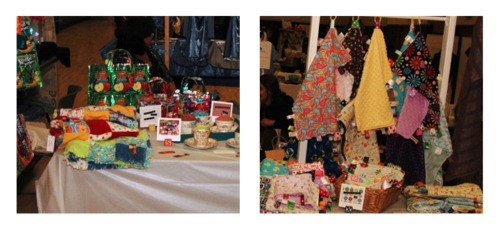 Made a great connection with a fellow teacher (Hi Allison!) who loved my Kool Aid Jammer totes. She just finished a unit on recycling and thought her class would think they were pretty awesome. I can't believe I hadn't thought about this before, but we got talking and got to her saving them in her classroom and sending them to me! She said she sees tons go in the garbage in her class. I should put the word out to more of my fellow teacher friends.
I meant to take a picture of my table as I was so impressed with my price signs and colourful product but I just didn't get a chance. I do however have pictures from my last sale, courtesy of my friend Joanna.