Last month I was at a rather dead craft show and got talking to a lady a few tables down and she saw my Moo cards and started showing me all her cards and said she gets her things printed at Vista Print.  If you go and sign up to receive their email newsletters (the privacy policy says they don't share the list) you get chances for some awesome deals.  The site has a drop down with oodles of countries listed but I was being my Canadian self of course. I figured I'd actually give it a try, but I love my Moo cards so when I got a Vista email about tons of FREE products I gave it a go.  All I had to pay was shipping so I decided to get a small banner, which is actually pretty big, because then I can have something hanging at my table at future shows.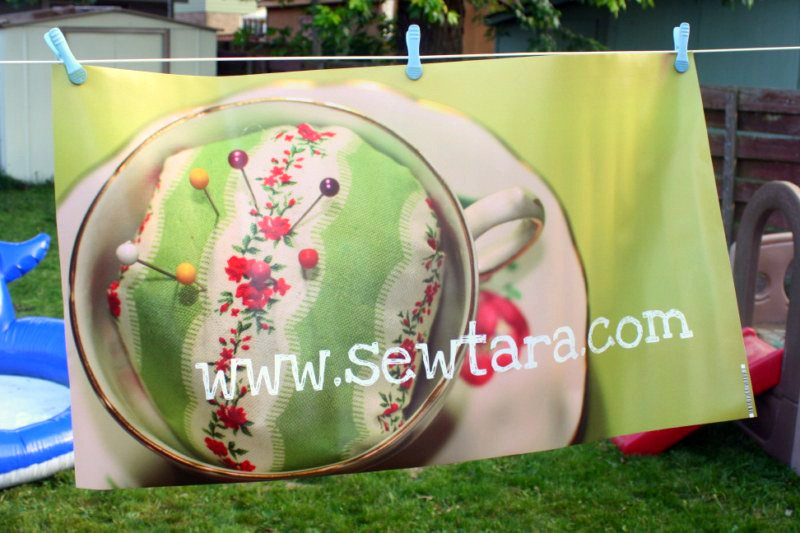 The banner seems huge! It's 90.2 x 50.8 cm (sorry for being metric) and I stuck with the really simple one figuring I can add my own grommets and such. It seems really durable and would be great for indoor or outdoor use, I even got it wet on my kitchen counter and no harm done!
Just to be silly, as though I'm some sort of big rock star, I also picked up a small car magnet!  Here it is stuck on my fridge for now.  It says to stick it to a clean car . . . my van is so not clean right now! This is the small magnet and it's about 28 cm x 21 cm.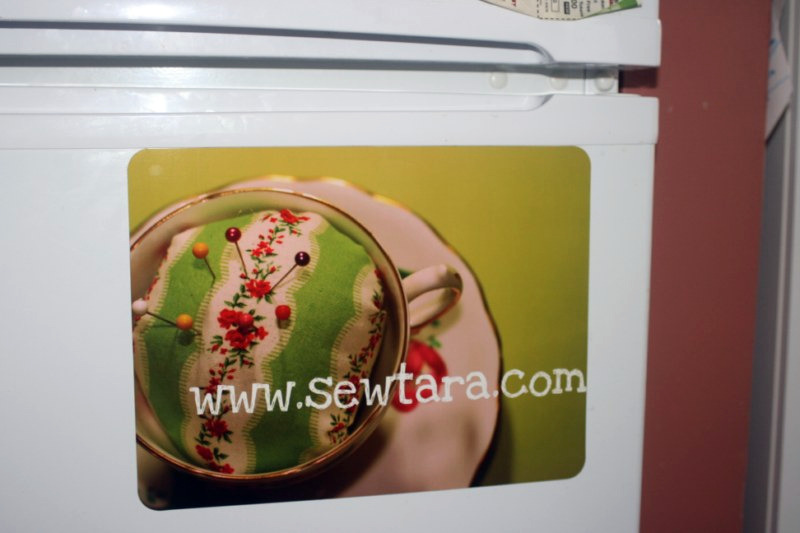 I chose the 'slow' shipping option, trying to keep my costs down, which they describe as 21 days.  I placed my order on the 11th, it was shipped the 22nd and arrived on the 24th!  So not bad at all for all that fun stuff for only $10-ish.
The site is really easy to use, I found it got a bit wonky with the images I was uploading but had I paid attention to the requirements and pre-organized myself a bit better it might have gone more smoothly. You can also keep projects ready to go in a 'portfolio' and go back later to finish up. Once you've created something you'd like to order there is a bit of clicking to get through before you actually finalize. They try to upsell more things with crazy deals. But a few extra clicks and an email here and there are totally worth it, in my opinion, for the products you get! I sent one of the emails onto my hubby a few weeks ago and he came home and said, 'why are you sending me spam?' then today when he walked in and saw my stuff he was pretty impressed. So there you have it FREE Vista Print = a good thing!