I blogged a while back about The Vintage Cabin, a fun blog and shop I stumbled upon thanks to My Girl Thursday. I made some purchases and was going to show the fun package I recieved and my purchase in action.
This cute little fellow was greeting me when I unwrapped the box.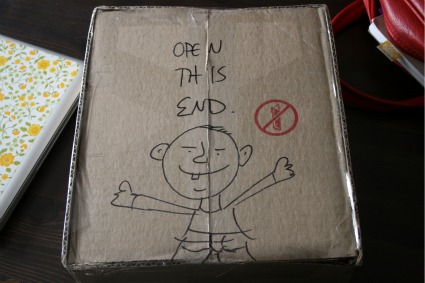 I thought this was a brilliant little touch, stamping the tissue paper! I have a custom SewTara stamp, why hadn't I thought of this!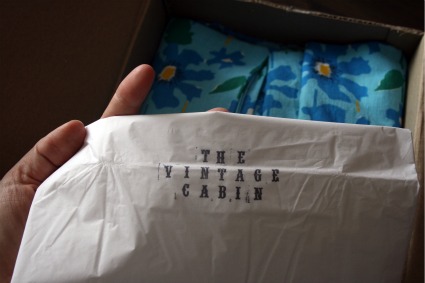 Here's the new home of the lovely vintage clock. Yes that's an unfinished wall. Yes that's the fuse box. My 'studio' is a corner in the man cave. I make do.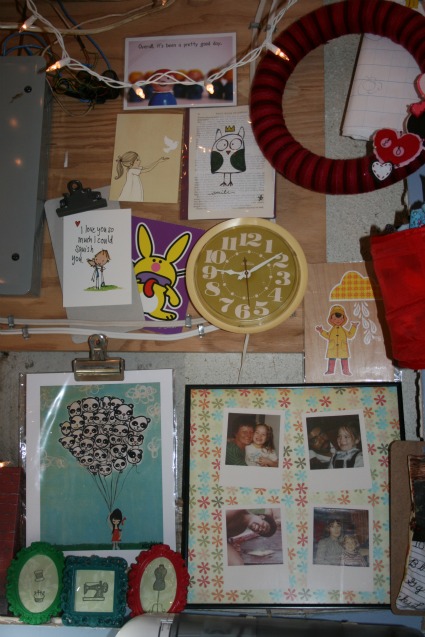 Lately I've been having a hard time working my various jobs. I spend the mornings with my kids, run off to school to teach all afternoon, come home and do the usually family type stuff and then run to the basement until I can't keep my eyes open to run my business. It's like working 3 jobs.
I was wondering why I didn't think of all this creative/blog/business thing *before* there were kid/kids and my hubby pointed out that maybe they are what drove me to find it. I think about all that time I just sat around doing nothing with my life before and how now every moment is filled with something. He said the pressure might be what pushed me to work so hard at being 'me' again.
I thought he was being pretty wise. Don't tell him I said so, that kind of stuff goes to his head sometimes.