Ok I'm doing that thing where I post terribly quality photos on my blog.  It's a big huge faux pas that no one should do.  In my defence I'm posting school photos while weren't taken by me and I tried to fix the quality . . . yeah anyhow.
The point of posting them is to show what a year of weight loss did for me.  From September 2011 to September 2012 I went down 35 pounds.  I know that's a big number and I was super proud of myself but it sort of hit home when our new class picture arrived.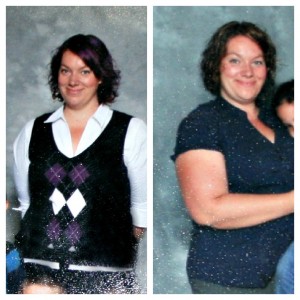 I only started in January 2012 when we got back from our vacation and the past few months have been slow going but I'm still really proud of myself and pleased with the difference.
Just had to take a brag break.  You can resume your online shopping and holiday stressing.