I exploded everything I've been working on for the past bunch of weeks onto the kitchen table Friday night to impress myself with my industrious creativity. Check it out!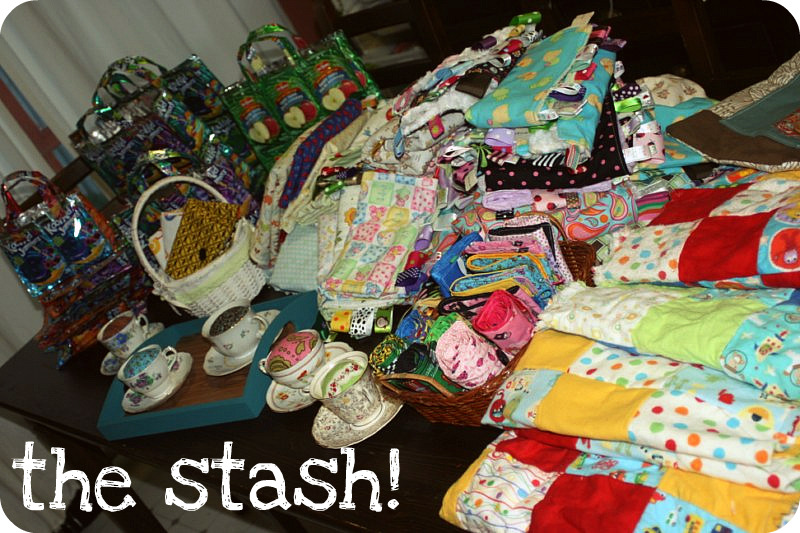 So are you impressed with my industrious creativity?  I sure was.  I thought it would be 100 things but when I checked my inventory list it was just over 80, still impressive.  Then I packed everything up and enlisted my husband's help in getting all the sticky a-straw-was-here patches off the juice totes while we watched Glee, Modern Family AND The Office.  Yeah, it took a while.  When we were done it was almost midnight and I opted for some sleep instead of trying to get one more thing done.
The show was fun, I met some nice people and saw some neat crafts.  Some people made suggestions for items of modifications to my items which was cool.  The juice pouch totes were my best seller, a little boy picked one out for his mom for mother's day, it was cute.  A lady approached me about being in a show strictly for upcycling items so now I'm thinking up new ideas to expand my inventory to include more than tea cup pincushions and juice pouch totes.    My photographer friend Joanna took a pic of our tables, I'll share them once she recovers!
At the silent auction I bid on Joanna's friend's sock monkey sweatshirt and won! The creator is Robin and she makes super cool and nifty sock animals.
Apparently the traffic wasn't what is should have been and some of the other vendors were upset. It was slower than last year so vendors who had been there in the past were a little disappointed. But I had a fun day out, met neat people, got some new ideas, hung out beside my friend and had some me time away from the kiddies.
When I woke up this morning I didn't want to even look at crafts let alone do one . . . . but there are these rag quilt squares all spread out on the floor downstairs and I think I hear them calling my name . . . .