A little while ago I entered The Great Fabric Stash Giveaway over at Living with Lindsey. She was cleaning up and ever so generously offered to GIVE SOME AWAY! for free!! It was an amazing offer. So I set my iphone to remind me of her post and while my 3 year old was getting his hair cut I was sitting and listing my choices and trying to scroll on a teeny tiny screen. Here's a few of her offerings.

Amy Butler and Michael Miller no less!! Once I got home to my big screen I checked the comments before mine and it seemed all my choices had been spoken for. I was sad. But luck was on my side because I got an email and was offered one of the scraps. Lindsey was such a troopper packaging and shipping all those goodies to give away. Here's a peek at all the work she had to do.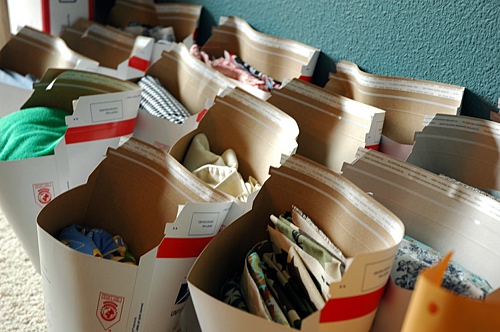 So sometime last week my fun little fabric arrived in the mail! I would have been happy with anything, but this colourful letterful print is super fitting for this crafty little teacher.