K I'm just going to take a moment, because it's my blog and I can, to write about weight. I know people blog about this topic with good and bad rantings and ravings but I'm going to go with something a little bit in-between. I have *never* been skinny in my life. There's been ups and downs, but right now I'm happy so I'm going to shout it from the rooftops for a post.
I met my hubby in April 2003. A few months before we met I had just finished losing 40 pounds, thanks to Weight Watchers and some hard work. We met and started spending all our time together and when school ended in June I was moving with him back down to the Toronto area. He's a foodie, loves cooking and meat and so a few pounds crept back on when I moved in that summer. We got married in July 2005, here's me looking all beautiful.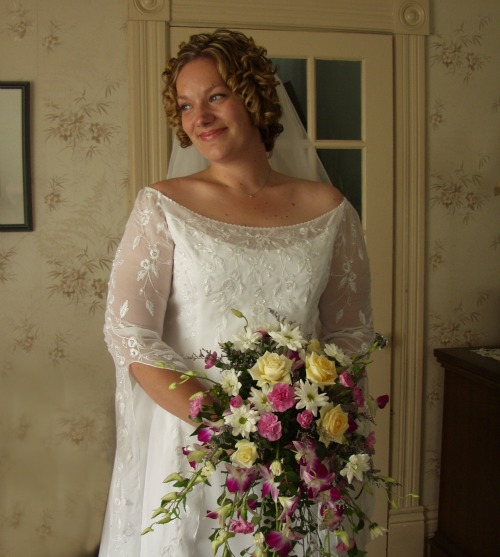 So then we're married and decide, because we're crazy, to 'try' for one of those kid things. Well, 6 months later, that January don't we find out we're going to be having one. Pounds rush onto my already expanding body and while I lost 22 pounds from the time I left our house to the time I got back 12 hours later in October 2006, it wasn't all the baby weight.
Then pass a few years raising that kid, add another pregnancy and you have me at my heaviest ever as I walk into the hospital to give birth to Nate in December 2008. This time I didn't lose 22 pounds in the 12 hours I was out of the house (yeah I'm a rock star). And despite successful nursing the second time around in 14 months I still hadn't kicked most of that weight. Here's our photoshoot when Nate was just 2 weeks old. The pic of him is just for laughs, isn't it awesome. He was gruuuummmpy.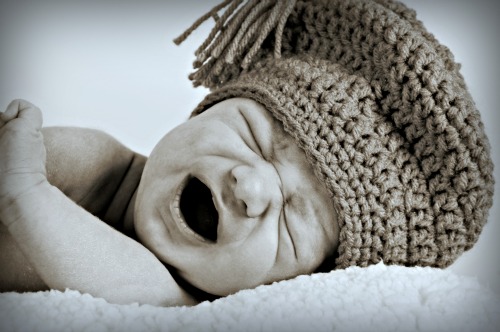 Photo by the talented Rhonda.
My super round face and lack of collar bones.
So then it's 2011 and hubby decides he's going to diet. Of course because he's a boy the pounds seem to effortlessly fly off. He's eating no carbs, it's all about protein, fat and veggies. He's losing weight. I'm kinda grumpy about that. We head off to Belize on Boxing Day for a week long vacation. He falls off his diet wagon since we're left with only resort food. When we get home I decide I'm going to play along too. Here's a picture of me in Belize, first week of January 2012.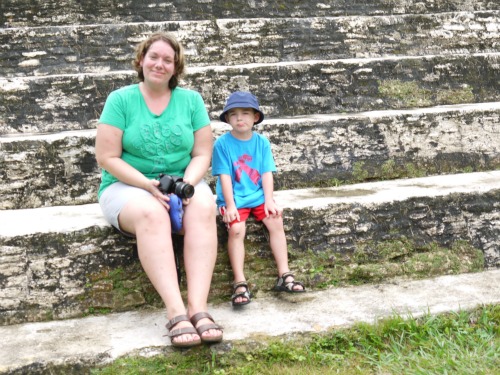 I hate this pic. I was mostly the one behind the camera so there's few pics of me on this trip, but my mother in law snapped this one. Out of interest the other day I went digging in the Belize folder to find a picture to compare our weight loss and I found this one of me. I'm down 30 pounds now and I'm so happy. The other good news is that t-shirt had to go, I was swimming in it, and the shorts will once fall gets here because I can take them off without unbuttoning them. Here's me last week.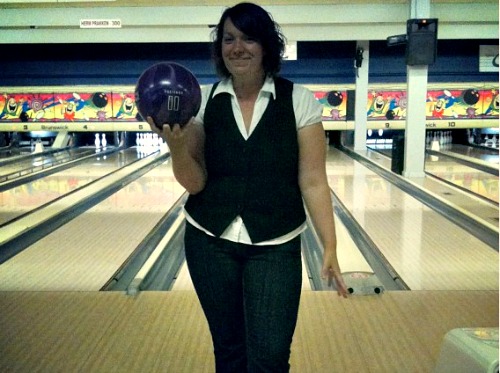 Now I know I should be happy with who I am, and I totally am. I have a great life, hubby, kids, teaching job and a growing creative empire. But I also want to look better. I want the outside to match the inside. I want to wear awesome fun clothes that I can find easily, I want to enjoy shopping, I want to chase my kids at the park and be able to keep up and be healthy. So I continue my quest.
Today me and my BFF went clothes shopping. I tried on a pair of size 16 pants, I wasn't sure what to get since my hubby and I have been purging our clothes almost daily it seems. The pants were a bit too big and I took them to the saleslady not sure if I needed a 14 or the 17. "These pants are a touch too big I'm not sure which size to try next" I said. She took the pants from me and said "Of course they are! These are from the plus side, you need to be at the front of the store from over here to . . " She went on the explain the different sides of the store. I know them very well, I've been walking into stores like that for a while and ignoring all the stuff near the front to walk to the 'plus' section at the back. Anyhow, it was a great feeling. I left with 3 pairs of size 15 on the 'regular' side.
Now I'm still not where I want to be, another 20 pounds gone I think will be perfect. That's still not where any BMI or doctor's chart says I should be but I don't care about that. I want to like how I look, order more things from places like ModCloth and just be an overall superstar.
Thanks for reading if you got this far.