Ok, well it's not quite finished yet but I'm crazy excited about what I have so far!!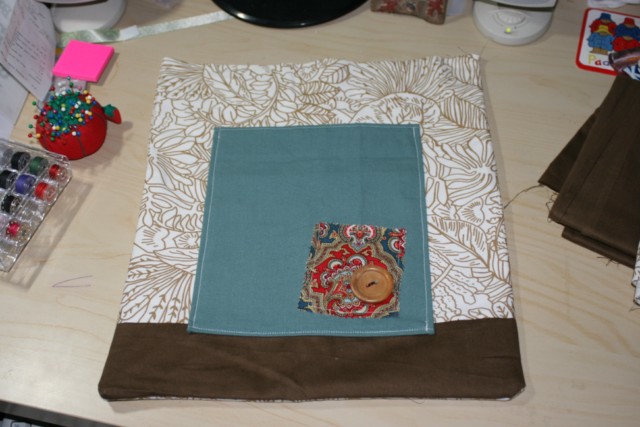 I have a bag/tote addiction.  Which is sort of crazy since I hate carrying purses, but since growing up (or at least reaching an age where I *look* grown up) I've started carrying something with me.  Well that and having kids, now I've got to have things with me even if I have the diaper bag! Etsy was an addiction for a little bit, I absolutely love this lady's bags.  I own 3 of her bags, 1 was even custom made for me, I feel so special. I try not to check her site too often, I just want it all!!
I've become inspired by her style and started to design my own bags.  This is the first one I've actually got to sewing.  I've got a stash of fabric I've been collecting for almost a year. The teal coloured pocket is actually a dishcloth I found on clearance. The strap I have set aside was a thrift store find, currently it's a belt but that will change. There's a panel on the back with 2 pockets, lined in a different colour even!   I'm so proud.  Perhaps tonight I'll have a chance to sew the lining.   Fingers crossed, I might even get to put the strap on and sew it together!