I had this idea ages ago for putting pictues on the bins for the toys in our house, but Wesley pulled off most of the pictures and mangled them.  He was younger then.  So today I took some pictures of the craft supplies in our kitchen, that are neatly stored in our handy IKEA shelving thingie (thanks bff!) and printed them out in wallet size.  Then I laminated them with some little quick and easy card sized laminating sleeves from the dollar store.  I switch them to the bins with little velcro dots, also from the dollar store.  Then if toys change or we switch things up a bit it's easy to fix.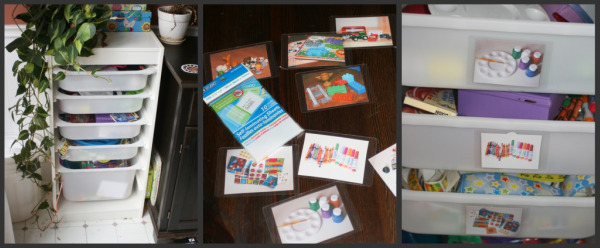 I also re-labelled the toy bin in the living room and then we had a HUGE toy cleanup.  Things were a bit of a mess after the weekend.  All the toys were tidied in about 15 minutes, which with a 3 year old and 1 year old is pretty good!
I managed to finish 5 taggie blankies today.  They were already in various states of completion so it wasn't too hard.  I've been going a bit bug eyed creating the same things over and over in preparation for the craft show this weekend so I opted for a change of pace.  I pieced together a rag quilt I've been wanting to try.  I've never made one so here's hoping all goes well!