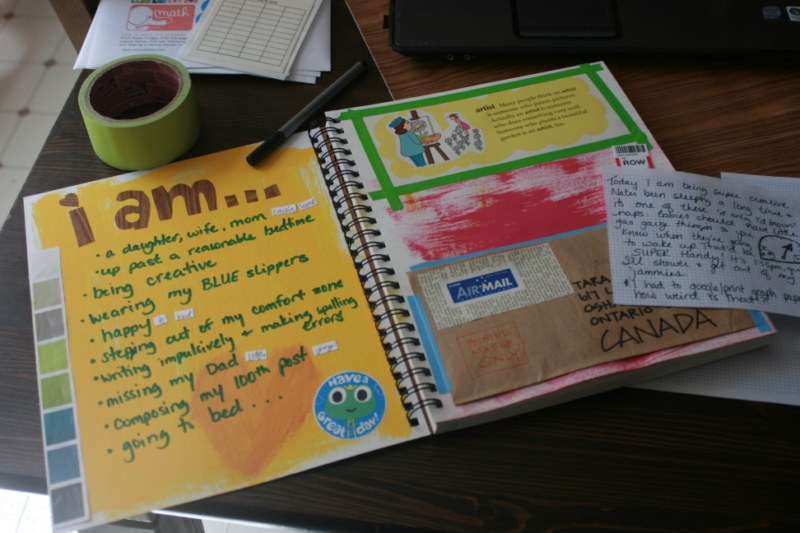 Started my art journal for the Tell Your Story class.  I ordered some neat ephemera online and went to an antique store and found some old readers and kids books to tear apart.  Here's my first two pages.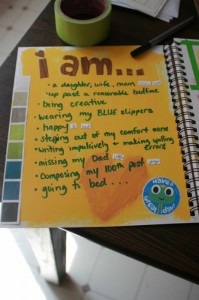 Can't wait to fill more pages! And shop for more fun paper supplies . . . . just what I need! Another crafty addiction.
On this page I just used some crafts paints (the heart was just a smear of pink left on the brush but it started to look like a heart so I went with it), a sharpie, a colour swatch from the Home Depot flyer,  some scrapbook word stickers and a free printout of school book labels from Martha Stewart.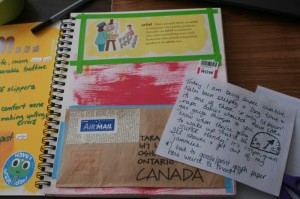 Despite all my arty and crafty supplies I didn't have graph paper! Google to the rescue, just went here and you can choose the grid size you want and print it out. I ordered some really fun stuff from thryftypyg, which I will share in it's own little special post. The packaging and printing on the envelope was sooo beautiful I decided to use it as my pocket.
I've been saving folders and folders of crafting ideas, PDF's, tutorials, images . . . you name it!  Sadly I didn't keep track in the beginning of where things came from and I'm kicking my self for that now.  But I do have some fun things to share, with proper credit and links!
LollyChops has some awesome free printables that I think would be great for the class, or just your craft projects.
Just Something I Made has neat labels and such. If you look under her 'free art' tab.
Get some free airmail stationary, and other fun freebies, from Linda at Tortagialla.
Creativity Prompt has some super neat journaling tags, just in case, like me, you happen to be addicted to them too. I love the graph paper ones.
And of course, the place I run into most of my awesome printables is One Pretty Thing. That's also the place I open the most tabs and lose most of my time when at the computer. Thanks Rachel!
Hope these few links can help you with your art journals!