Go me!! Good thing I decided to lug my lappy across the border on our little adventure (post to follow), not only did it give us all a way to check our email and waste time online, I won something!
Thanks to Sew Spoiled for pointing me in the direction of her sponsor's giveaways I won a personalized vinyl monogram over at Baby Bunkins. It'll look like this (but with my initials :))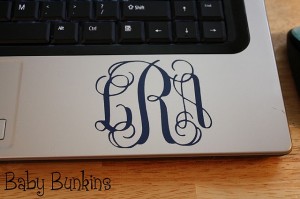 You can buy your own in her etsy shop.