I sent out a 'How'd you come to be doing what you're doing right now?' sort of question to some of my bloggy/creative business friends and here's what Marilyn of Pulp Sushi had to say.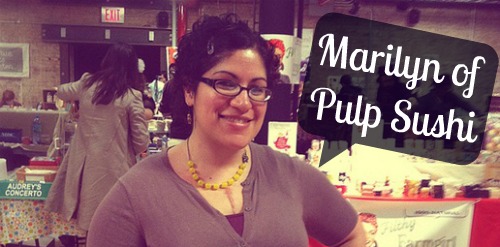 Not to sound like an old hag but I've been blogging for a long time using various mediums (ie: Diaryland, LiveJournal, etc) way before I opened an Etsy shop and I didn't have much direction. Once I discovered that tapping my creative enegy into jewelry making was for me, that's where my blogging direction headed. I use my blog to help get the Pulp Sushi brand out there and share with others the inspiration behind what I make and the things that make me gush (ie: puppies, pretty dresses, monsters and dessert).
Fun news: There's a giveaway going on over at Pulp Sushi right now so run and enter!
Cristina of Obsessive Compulsive had this to say.
I've always been a fan of nail polish and makeup. When I was a kid my mom purchased one of the "Klutz" books about nail art (I think they still publish it too!). I used to take it with me to birthday parties and do everyone's nails. In terms of blogging about my nails and makeup, it just sort of happened. I can't even remember when I started blogging, and how often my blogging ideas change (probably as often as my nail polish). One day in Chapter's, I got the idea to create a blog about all the things I'm obsessed with. That's how I came up with my blog name, and it makes life a little easier to know I can blog about my nails one day or completely change subjects and blog about my dog the next.
She's also offering up an awesome prize pack, pictured below. Just leave a comment below to enter. I dislike having to jump though hoops to enter giveaways so i don't require it but a visit to her blog and/or spreading the word about the giveaway would be nice
Enter until Thursday night and I'll post the winner on Friday with my Create Along post.