I didn't announce my next Create Along pattern. This one's a freebie and I hope someone will play along with me! Add a pic to the Flickr group, I'll share it here, you'll have more friends, you'll be cooler.
Ok, back to the task at hand, I'm going to make, hopefully some, of these produce bags.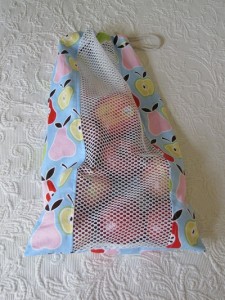 I'll have to be disciplined this week in getting things done this week. Friday night I'm heading to Ottawa to check out the Urban Craft Market. I really want to be part of it but I'm busy for the June one and then the next pile of weekends are holiday weekends and October is Wesley's bday. So I'm hoping to table at the November show. Right now all my stock is on sale at the local art gallery and with all the NYC trips I wasn't able to build up enough to table at this months show.
I've read that you should check out a show before you table there and I've never actually done that. Plus, I went to university in Ottawa and lived there for 9 years. I'm looking forward to checking things out, seeing how it's changed and meeting up with some friends. I think these NYC weekends have given me the bug for wandering cities on foot until I can barely walk anymore.