I've been a terrible slacker with running any sort of 'sponsor' program. I haven't pushed it really. Mostly because I thought I wasn't giving people the time and effort they should have for paying for an ad. So let's kick off 2013 with some ad swapping!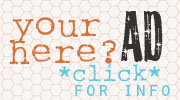 180 x 180 square ads and 180 x 100 rectangle ads are available. Just click here choose your ad size and enter the promo code SWAPSIES on Passionfruits site. There are 3 square ads and 6 rectangle ads available, ads will run for 30 days starting January 1st.
I'll have a chance to go and approve your ad and you can either email me or I'll track you down and we can work out my ad for your blog.
It's important to share the love.