I got this order for 200 cozies, my biggest order yet. I called the person who taught me how to screen print and asked if she would have time to make the screen for me but she was too busy. I can make screens but I'm not an expert yet, it's very hit and miss. So I was on my own for the project.
Here are the hurdles I have experienced since starting on them on Saturday.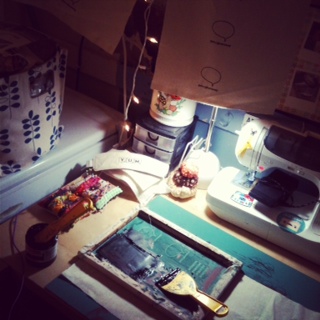 – Had to run to Fabricland for supplies, red for the interior, ran out of fabric after cutting 98.
– Went to Staples to make the overhead photocopy I needed for screen printing. Had trouble with the copier, which is silly because as a teacher I could have made the 1 copy at school quiet easily. I put 4 designs on it just in case.
– Came back home and set things up, plugged in the halogen light to burn the screen and the bulb blew.
– Trip to Home Depot
– Pulled out a coated screen I've had around for a while and burned it, covering some of the images at intervals to make sure at least 1 of them would turn out well.
– Couldn't rinse the emulsion out of the screen so I tried again.
– Couldn't rinse the screen.
– Had to strip the screens down to start over but was out of the chemicals, trip to Michael's at 8:30pm.
– Came home and coated the 2 screens and rigged up a box covered in a blankie to keep them in the dark while they dried.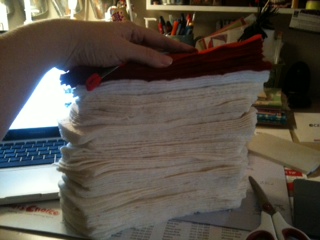 Onto Sunday when we had a plans with friends all day.
– Cut the batting fabric I had on hand, only had enough for 102.
– Checked my label inventory, I have 187.
– Massaged my sore forearm muscle while visiting with our friends.
– Came home exhausted and not feeling very well at 11:30pm but burned a screen.
– Washed it out successfully!!! <- a good thing Monday - Screen was dried and ready to go but had some spots I needed to fill, trip to the art store. - Cut the fabric for screen printing, ran out at 119!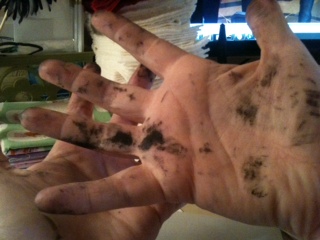 Tuesday
– Everything is closed!!!!
Sooooo it's all manageable but my oh my it's been a bit of a challenge to get this done. But it'll be worth it for my cozies going into the hands of 200 people!