While at the Handmade show on Saturday selling with some fellow T.E.S.T members I traded the lovely Christine for one of her inspirational printed tea towels.
It's similar to this one in her shop, same saying, just different towel.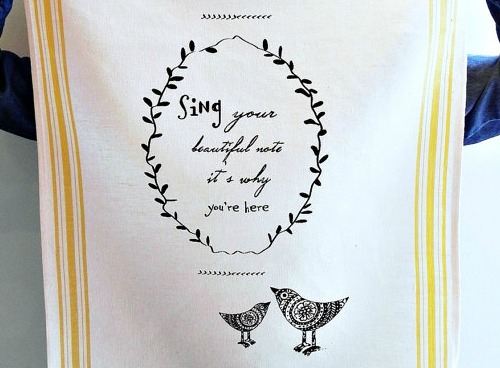 Then Sunday I was feeling really down and a good friend from work, who's very wise and has overcome things in her life to become this beautiful person who I adore, texted to see how I was doing. When I mentioned I was still a bit down she suggested I "go create something out of the pain and turn it into something beautiful for all to gain".
I told her I couldn't. While I Tweet or Facebook statuses about heading to the sewing machine, or sitting down to craft often, the truth is I very rarely do these days. I go to the basement to put a load of laundry on and I'll turn on the lights at my craft space, pull the machine forward, even layout some fabrics, and then I proceed to just walk on by it all for the rest of the day until I admit defeat and shut the lights off at the end of the day.
She texted back "You've muted your voice. Give it sound again. Ask the angels to help you find your voice again". I texted back with a picture of the towel and how I had gotten it the day before.
The funny thing was Christine said I had inquired about this towel in our Etsy convos about working out a trade but then at the show she pointed out I was changing my mind but maybe that was because the "sing your song" one was speaking to me and I should go with it.
I've met some amazing people lately. I'm so glad I have.