While this should be a Create Along reveal I can't even bare to claim it as one it's taken me so long to finish this project!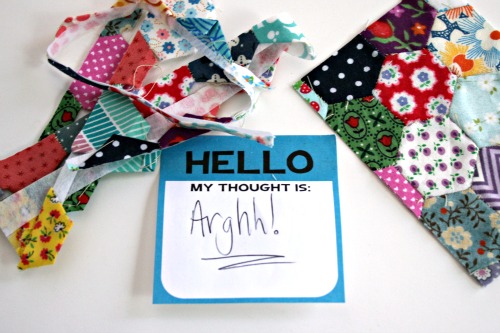 I had about 40 or so hexies all ready made but I needed 57 to get this project under way and I totally underestimated how long these things take! Perhaps if it was fall or winter and I was stuck inside watching shows or lazing about more, but with it being summer holidays the kids and I are keeping busy and I just found I didn't have time for making hexies constantly.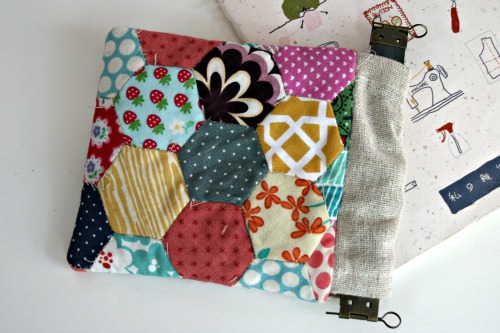 The only thing that saved me was 2 Fridays ago my hubby came home and decided we were going to rip up the lineoleum and lay down the ceramic tiles we got on crazy discount. Did I mention he's a programmer and I'm a teacher? It was apparent rather quickly we had no clue what we were doing. We had shipped the kids off for a Saturday night sleepover in some sort of dilluted ambitious hope we'd actually tile our floor ourselves. We gave up and called in reinforcements. So as Sunday evening approached and our fridge was in the livingroom and stove in the side yard I packed up some stuff and the kids and headed to the lovely home of my inlaws for a few days.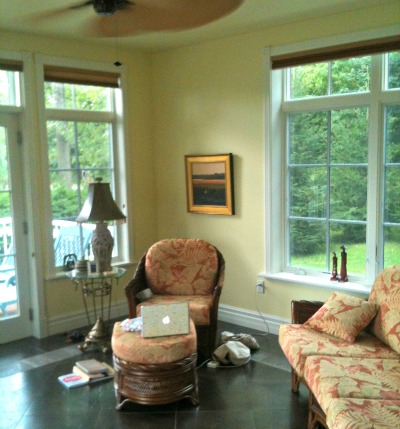 I camped out here and because their house is HUGE I barely saw the kids, they were happy to play with vintage Star Wars toys and visit with Grandma and Grandpa. Also, it's a ridiculously bright sunny room and it was so awesome for crafting. One day a crazy thunderstorm moved in and it was awesome to watch it from this room since it has 3 sides of giant windows.
I took the kids to the park and tried to hexie but they were all over me.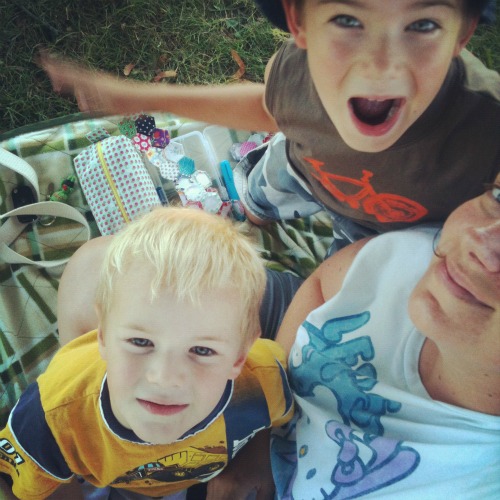 I watched PanAm episodes and hexied away!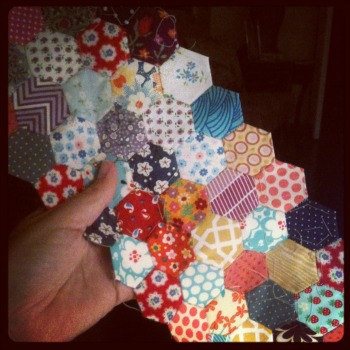 The kids played in the 'carriage house' construction mess.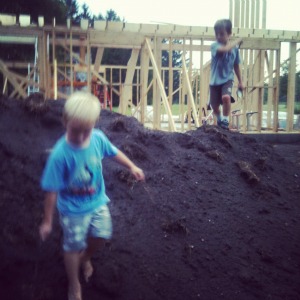 Then last night I stayed up way to late assembling the pouch. The tutorial is fantastic, I love the finished edges on the openings for the frame. Sadly my frames are slightly larger than the one listed in the pattern, so mine sticks out a bit. I'll go on a quest for a smaller frame soon because it totally bugs me like this.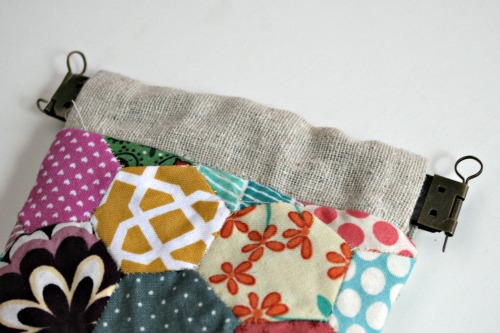 Also, I have no clue how women made these things in the 'old' days, I get that they save scraps and use every little bit but my gosh they take oodles of time. It also pained me greatly to actually cut the big piece down a bit to make what I needed for the project, even those teeny scraps of hexies were painful to toss out!