While wandering the festival I happened upon this lady's lovely booth full of all sorts of fun modern fabrics.  Mad About Patchwork is in Ottawa, a city I love and miss.
On her blog, Pam did a 7 weeks of Christmas challenge and she found a bunch of neat tutorials and projects and then made them using Colorful Christmas by My Mind's Eye for Riley Blake, with great results.  She whipped up a selvage needlebook coasters, little trees, tiny totes, placemats, a tree skirt, and a table runner.  Check them out over at her blog.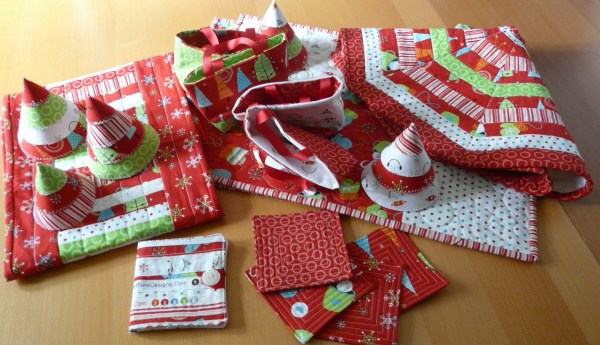 Here are the fat quarters I picked up at her booth, only a few since I was trying to curb myself and slow down before I wouldn't be able to walk for all the fabric I was carrying.  Plus I wanted some pretty prints that would be easy to match up with other stuff.