I'm away for the weekend at a scrapbooking retreat. It's the first time I've had a weekend away from both the kiddies. Bit scary but fun too. There are 11 ladies here and last night the room cleared out, except for me! Of course, in my new found habit of staying up insanely late to craft I wasn't tired and felt like I could keep going for a while. I made it to 1:30, watching shows on my lappy and working away. Breakfast is at 8:30 and apparently if I miss it I have to eat Doritos, Strudel and candy for breakfast instead. I'm undecided whether or not that's a bad thing. I woke up this morning and the clock said 8:54, so I jumped up and ran to the dining room in my jammies. Everyone was gone already but the food was still out so I grabbed a plate and headed to my area.
The internet is rather flaky here and I didn't bring my camera so I'm getting creative with my post and sharing some things I purchased from Etsy the other day. Shopping online is waaay to easy. I went on to gather things for the Tell Your Story class, specifically ephemera. I found these absolutely adorable stamps from Australia in this store.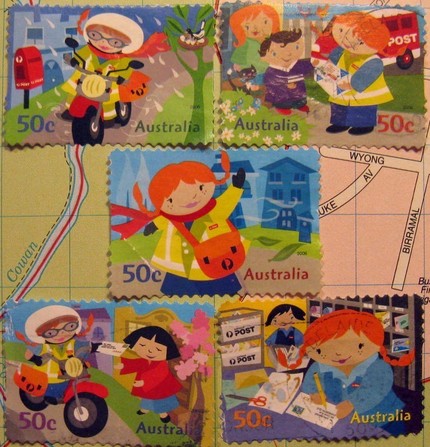 I also got these awesome tags with illustrations of 70's ladies on them. I'm loving the one with the daisy earrings and happy sunshine smile.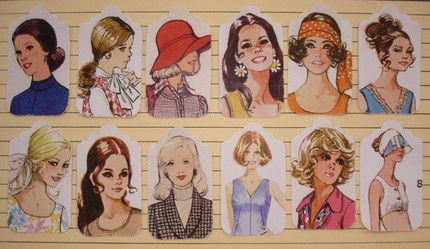 I think I'm going to have to make some time to hit up antique stores and root through boxes and bins. I remember years ago when I lived in Ottawa doing that one day with my room mates. I came away with some old black and white photos and even some bank slips and cheques from the turn of the century. It was such neat stuff.