I've made one scarf in my life. I remember it was Thanksgiving weekend and I was at my Nanny's house for turkey yumminess. I spontaneously decided I wanted to learn to knit, after years of watching her make little slippers, and asked her to show me. With some extra supplies she had lying around I started to work on a scarf. It was really simple, just knit a straight line. Despite the simplicity, I still found myself heading towards a triangle as I somehow added stitches to rows here and there. I remember pulling out an awful lot of that scarf and having to go back and reknit rows! My husband thinks it's 'ugly' but I love that I made it myself and that I was able to learn something from my Grandmother.
So, with that adventure behind me I've become inspired to give it a go and make a scarf, this time I'm going to crochet so I know I'll be able to handle it! I stumbled across this, while reading through my RSS and clicking and clicking around, I found do you mind if i knit with this gorgeous gem of a scarf! I must have one.
So with a sale on at Michael's my friend and I have invested in, for now, 6 different colours so I can begin madly making squares! My friend is the knitter, she has tried to jog my memory on how to knit but it didn't seem to work, and she has made my son a cute little sweater (after I bought the pattern thinking I would attempt to make it) so the least I can do is return the favour in crochet form!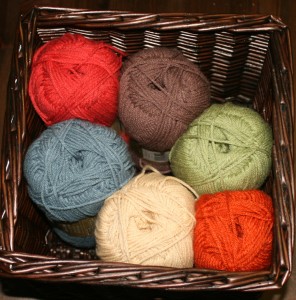 While Vanessa seems to have used about 43 colours in her scarf, I'm starting off smaller. Here's the colours we picked up last night, one is Lionbrand Vanna's Choice – Terracotta, the rest are from Loops & Threads Impeccible worsted. We grabbed 5 of those ones, Cadet, Fern, Heather, True Taupe, and Rouge. Now with a 3 year old and a 9 month old in the house I may have my head in the clouds thinking I can get not one, but two!, scarves done before June, but I'm going to try!!
In Halloween news, my sons and I are going to 2 parties and I've decided to dress as the Tooth Fairy. I'm finally going to put my prom dress that's been sitting in a box to use!!