We got in from England on Friday night at about 9:30 and were ready for bed! With England 5 hours ahead we were a tad tired. Then of course my wonderful little baby boy woke up at 4:30 Saturday morning. He was ready to go, it was 9:30 for him. The rest of us weren't so ready. Wesley spent about 10 minutes awake before he had a meltdown and I marched him back up to bed. But being up early wasn't so bad I started to explode our luggage and dig out all the gift and souvenirs we bought, and the Christmas tree needed to come down!
So, while Christmas is over I had ornaments on my mind while I took down the tree and unpacked some I had bought on the trip.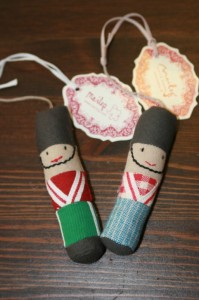 Now while I didn't make these, they would be pretty easy to whip up some that are similar. They're by Maileg. It's been our thing when we travel to get Christmas decorations/ornaments so I picked these 2 up sort of for the boys. Most of the decorations on our tree are painted by me. I used to buy some every year and sit and paint them. I figured I'd have a tree full in a while. Travelling and collecting them is just as much fun.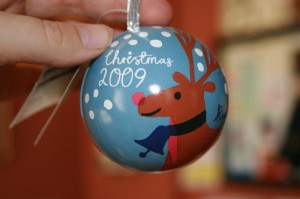 This one is just cute! It has 2009 on it and says Rudolph on the other side.
I haven't had much time to be crafty with the trip and returning to work today, which is going to be tough after over a year off! I fully intend to keep crafting in 2010, and posting, and creating, and being me.