I cannot believe I've gotten to my 100th post already!  It's so exciting.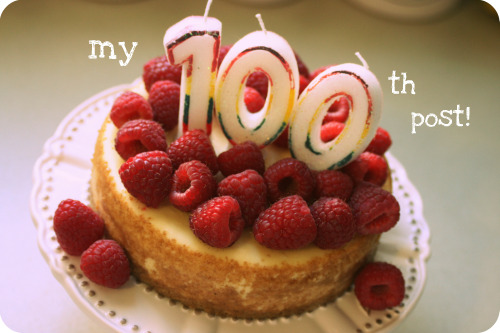 In honour of this awesome event I'd like to list 100 awesome things about having this blog!  Oh, and have some celebratory cheesecake. So as not to overwhelm you all with a giant list of all 100 today let's break it up over the next few days shall we?  Here's 1-20.
1. I create often.
2. I get to share what I create.
3.  Here and there I get to teach what I create.
4.  I've discovered some amazing sites to learn even more about creating like oneprettything
5.  I've got fans who aren't friends or family!
6, 7, & 8.  I took some awesome online classes thanks to the RedVelvetArt girls, Style School, Indie 2.0 and Tell Your Story.
9.  I won something online, a spot in a class!  Finally Easter, thanks Stina!
10.  I've expanded my fabric stash.
11.  I learned about Joann's and AC Moore's.
12.  I've made a few trips across the border.
13.  My typing skills have improved, sort of.
14.  I learned to proofread more carefully – Popple not Poople.
15. Wesley has fun crafting with me.
16. I've discovered some great family fun blogs like Frugal Family Fun Blog.
17. My 1st Mother's day gift, my sewing machine, is getting tons of use.
18.  Some 'destined for the landfill' juice pouches have a new destiny because of me.
19.  I've learned more about Etsy.
20.  Going to the art store is awesome. I'd forgotten what it's like.