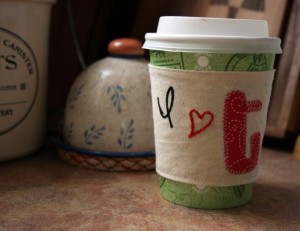 Congrats to Katie who entered over on Wild Olive and won herself a 'I <3 t' cup cozy!
I headed into to Toronto for the Creativ Festival yesterday and boy did I have fun! If you live in or near Toronto and can get there today or tomorrow it's worth it.  They've got stuff for scrapbooking, knitting, sewing, crocheting, cardmaking, and all sorts of supplies and sellers.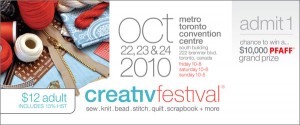 I picked up a ton of fat quarters! They were everywhere and so fun and such bargains . . . I think I have over 30. I also met some really creative and fun people and managed to even work out a donation for a giveaway while mentioning my blog. I think I'll let the posts about my wonderful finds trickle in over the next few days.