So while it seems I haven't been very crafty lately I have been working on stuff, honest! The sad part is some of the projects are secret gifts so I can't share my progress, which is icky. So I've been puttering on other little things as a break from the bigger crafts. I finally used my lovely bookplates and stuck them in my crafty/sewing books. Now that Handmade Beginnings has arrived I've only got 1 bookplate left! Time for another visit to Cabin and Cub.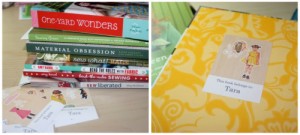 I was almost afraid to actually stick them somewhere, they're so lovely. Now that I'm a bit addicted to collecting fabric I'm noticing that sometimes I can't bear to cut a piece! It's so silly, why have it if you're not going to use it?
Thanks to Ravelry I started a cute little apple cozy only to discover (after taking it apart 3 times) that I crochet really tightly and I'll need to use a bigger hook so that it will actually fit an apple and not a plum!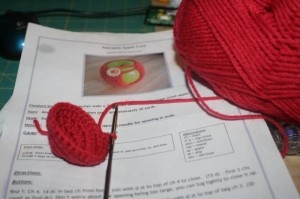 So is it 'cosie' or cozie' or 'cosy' or 'cozy'? I think I use a different one every time.