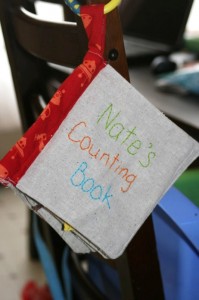 I spent some time this weekend finishing the book I started for Nate.  I just had little bits and pieces to finish and was sort of procrastinating on it.  But last night I set to work and got it all done!  Then I set it out for him to find in the morning.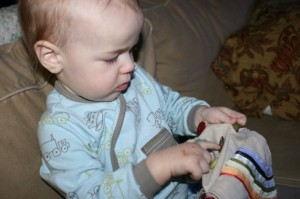 He absolutely loves it!  I'm so happy.  He's really into touch and feel books right now so I guess it was well timed for now.  He loves the 8 page which has buttons on it.  Here's a glimpse at each page.  It's a bit different than the one I made for Cassie.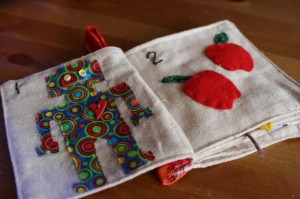 1 robot and 2 apples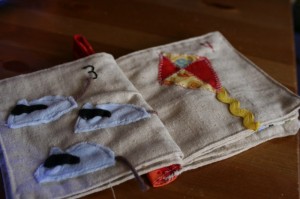 3 blind mice and 4 triangles in a kite.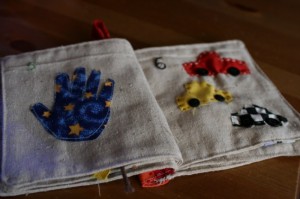 5 fingers and 6 button tires (which Nate also loves).  Wesley said there was a taxi car on this page, total fluke but cool he thought that.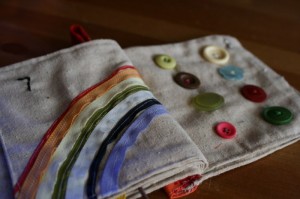 7 colours of ribbon in the rainbow and 8 buttons.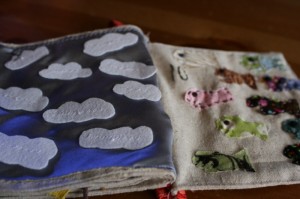 9 clouds in the sky and 10 fishies with button eyes.  Despite the button eyes Nate's not too impressed with this page.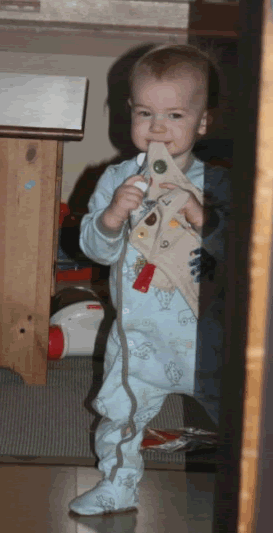 Apparently the button page is tasty too.  Good thing the book is washable!
I'm going to start making these to sell, just have to get around to the Etsy custom listing.  I've already got a request for 2, if anyone else wants one for their little one or someone else's little one let me know!