Totally meant to post this much earlier today but I got sleepy last night, you know at 12:30 am, and didn't get to posting. Of course I remembered once I was cozy in bed doing the math that I had to wake up at 6:30. Long weekends are great but they sure do spoil me for waking up early.
Anyhow, here are some much better photos of my NapKitten wallet creation.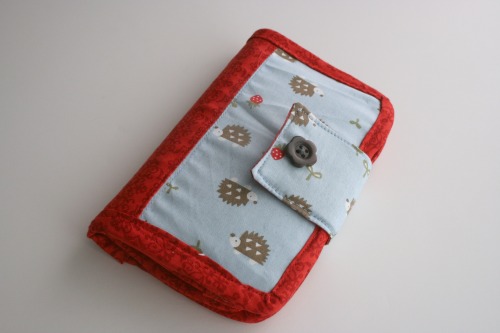 I picked a cute Japanese cotton print and a locally found red damask print. Due to all the pieces you have to cut for this pattern NapKitten has you cut as you go and I had a hard time with that. I'm a very visual person, and since I was working with a fabric where direction mattered I wasn't sure I was going to have enough. The outside is one of the last pieces you cut and so I did some skimming through the pattern and some willy nilly cutting. I set aside the pieces and labelled them.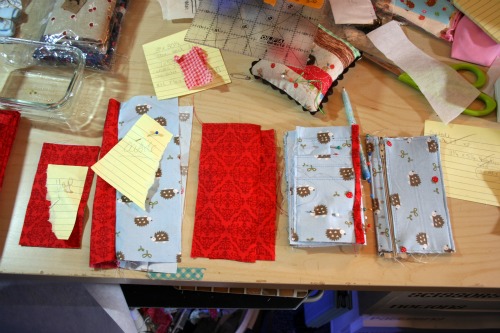 Making the bias tape was a fun experience, a little too finicky for my taste but I'm glad I know how to do it now.  I'm not a very good precision sewer/ironer and I think you need to be for bias tape making.  I found a video on YouTube on how to fold and cut fabric on the bias, while it seems confusing for me that was the easy part.  It was super tricky to have it nice and even and covering all the edges and previous stitching.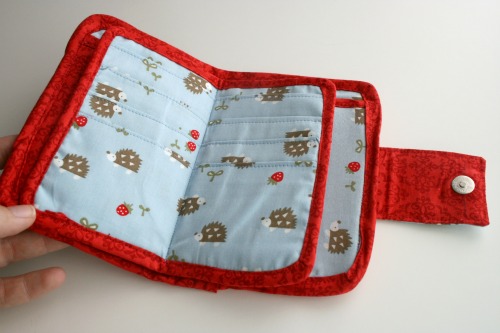 I made the inside pocket on the left there with the damask because I was worried I'd run out of hedgehogs, I think it was the right decision.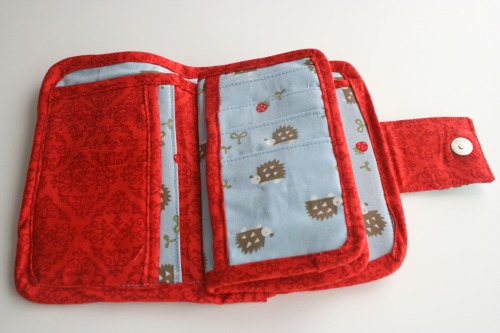 At the very bottom in this next photo you can sort of see the one place I'm not happy with my sewing job.  Right at the very bottom just left of the zipper is the seam of the outer binding and it's a bit stuck out.  Also left of that in the very middle I had a hard time getting the binding up nice and close because of the middle card slot part and there's some stitching and innards showing.  No one will ever see it since it's inside my wallet but I plan on going back and hand stitching it a little with red embroidery floss just to hide it a bit.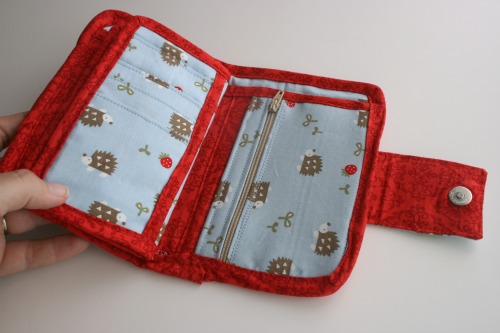 Wonkiness aside I'm really happy with it and super proud to be using such a unique made by me item!