Ok, shopping online is way to easy and fun.  You can find things you wouldn't be able to get otherwise and then one day you check the mail and SURPRISE! you've got a little present waiting for you!  Too cool.  This week I got some fabric in the mail (not the first time that's happened) for this child's activity bag project. I thought it would be nice to make a little tote bag for the boys with some fun activities in it that we can . . . tote around with us. So off to ebay I went to order what I needed, and a few days later it arrived!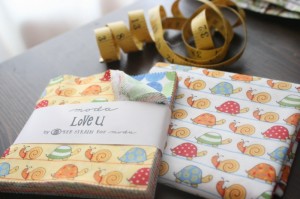 I'm still dying to make this stripey table runner but I'm having a terrible time finding a 1 Figgy Pudding Honey Bun and a 1 Moda White Jelly Roll. But guess there's lots of time before Christmas.
I finally got the fabric I needed for my Valentine themed craft. I'm hoping to get it finished over the weekend, but here's a little glimpse of the felt embroidered pieces that I've already finished.