Had some fun this week wandering about Toronto.  I'm going to have to make time to do this again really soon!  There was way to much to see and I ran out of time for all the fun things I wanted to accomplish.  In Kensington Market we stumbled upon Funky Junky, an awesome vintage store full of fantastic stuff.  I was camera-less but snapped some photos with my iphone.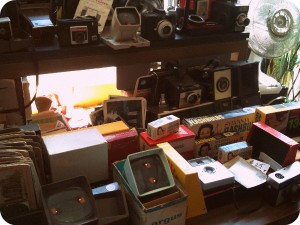 A collection of vintage cameras and accessories.  Beside them was an ancient Singer sewing machine, the old weighs-a-ton black model with the fancy gold writing.  Yeah, that's my description.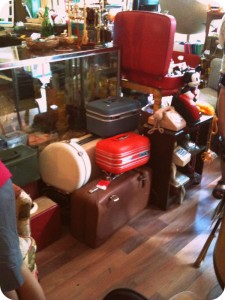 Suitcases and other travel worthy things.  Super cool stuff.  The white one was really cool but when we opened it there was a blow dryer inside!  Beside them you can see the collection of phones.  Around the corner from those was a big box with Gem's Roadster in it!  Complete with FM radio in the trunk.  There was also a stack of old video games, including Intellivision!  We had that.  I remember my mom bought it on some financing plan it was so expensive when it first came out.  Of course Atari took off and poor little Intellivision was left in the dust.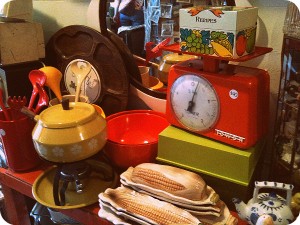 Here's some random kitchen stuff.  It was easy to lose track of time in there with so many fun things to look at!  The best part is it will be even more fun to make sure to pop back in every time I'm downtowm and see all the new treasures.  Definitely taking my camera next time.