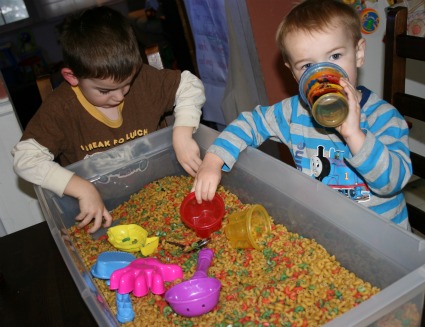 It's snowy outside. I've had this idea for a while but finally got around to it. I grabbed an under bed storage box, 4 bags of elbow pasta, food colouring and rubbing alcohol. I was going to use rice but was told by someone that it can get quite slippy when it spills on the floor. Plus elbows make a noise you can hear and they're easy to spot and pick up with your bare hands.
My boys loved it and have played in it every day.  Wesley insists on calling it 'macaroni and cheese', it's cute.  Look, Nate can't even stop for a drink it's so much fun!!  I tossed in some metal kitchen utensils too since they make fun noises with pouring macaroni.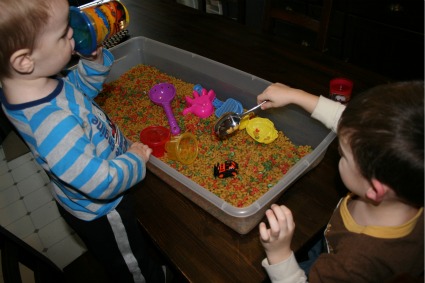 I had picked up some discount sand toys at the end of the summer with this plan in mind.  The entire thing cost me under $20 but you could use any tub (I just wanted hide away storage) and you might have rubbing alcohol and food colouring already on hand.  I Googled how to colour pasta, it's ridiculously simple.  Grab a zip lock type bag, pour in about 1/4 cup rubbing alchohol, about 12 drops of colouring and some pasta.  I wasn't exact.  It's pretty easy, more colour, darker pasta . . I'm sure you get it. Leave it sit in the bag sort of flattened and spread out for one hour then turn it over for another hour.  Pour it all out onto a cookie sheet with some paper towel or rag on it and let it dry over night.  In the morning it's all good to go!
Note don't bother trying to colour it yellow it does nothing.  I assumed so but had to try just to be sure.