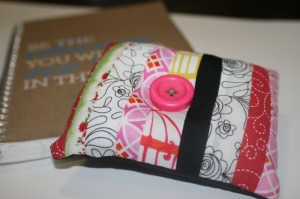 Sometimes I don't get to my RSS feed in time and miss a giveaway or some other timed event, which almost happened with Leigh-Ann's Pin Cushion DIY and Swap. Luckily I got there just in time and now I get to be part of this super cool little craft making and gift giving extravaganza!
Today I had a few minutes, that's really all it takes, to whip up a pin cushion using her tutorial. The awesome thing about it is you need very little fabric and it's a great way to use up some scraps if you so choose.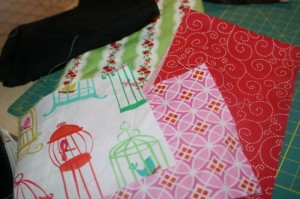 I pulled together some squares of fabric I liked and started sewing.   It was super easy and ironing between each step really helped flatten it out and make it look professional (sometimes I get lazy with that step).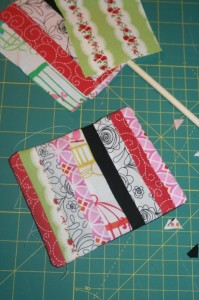 It didn't take long to have it big enough for the square, I put a black piece of fabric on the back and choose a but pink button for the front and a cute blue one for the back.  I had to get a little creative with sewing the hole closed, I wasn't happy with my first attempt.  I think I'm going to go make another one and then decide which one I mail off to my partner!