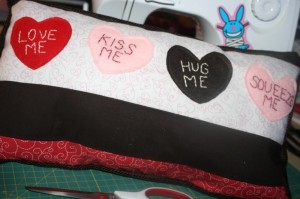 Finally I finished my Valentine inspired quote pillow!  Once again putting me crafting late at night when I probably should be heading off to bed.  Instead I will make the world a better place and tell you how I made it in case you'd like to brighten your space with this cute little throw pillow.  Not only is it a pillow it's a cute little message for my family since my husband or kids are welcome to follow the instructions anytime they like!
Sooooo first you need some hearts.  I cut 4 hearts out of pink, red and brown felt.  I just used the trick of folding the felt in half and cutting half a heart.  You could get fancy and use Google images to find a heart template to trace if you're afraid to free hand it.  Then I embroidered the sayings onto the hearts with different colours, pink on red, fuchsia on pink, cream on brown.  I was sort of basing the sayings on a little thing my dad and me used to say so I needed 4.  You could have more of less hearts, bigger or smaller ones,  just depends on what you want on your pillow.  But you can still follow this horizontal stripe idea even if you change it up a bit.
Gather some heart/love themed fabric (part of why it's taken me so long to complete this project) and fuss about which ones to use and how (another reason it took so long).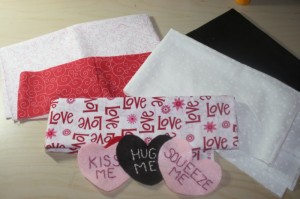 I decided to use the Timeless Treasures fabric again since this pillow will go on my bed with my "Sew in Love" and "Oh" pillows.  Wow, I can't believe I have 3 decorative pillows on my bed . . . and they have names . . . ok, back to the turorial . . .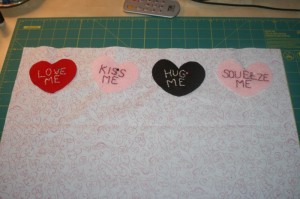 Pin the conversation hearts onto the backing fabric you want and get a feel for the placement.  I cut a piece for the back from brown fabric and decided on 20 x 13.  Think about how big you want your pillow and cut backing for that size.  Because I was going with a length of 20 inches I trimmed the swirly heart fabric to 20 inches and then just cut under the conversation hearts where I thought seemed nice and even with the top.  Then I added a band of brown to the top, bottom and the red swirly Timeless Treasures.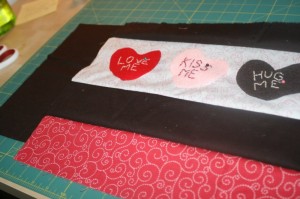 Once again, I was very scientific – I just added fabric until it was the same size as the back, trimmed it down so they matched and carried on.  The 2 pieces were basically 20 x 12.  There was some loss in the trimming.  So add horizontal stripes of fabric until your front is the same size as the back.  I had 4 stripes in total, yours is up to you.  I had gotten some piping for along the perimeter of the pillow to jazz it up a bit.  I wanted it to be different from the other 2 on the bed so I went with the piping and rectangular shape.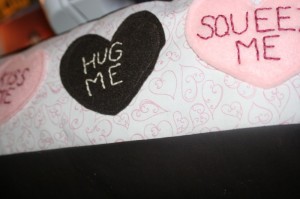 I was going to hand sew the hearts onto the backing fabric using contrasting colours but in the end I decided to have the stitching be nearly invisible.  So there I was changing my thread and bobbin a few times to get the right coloured thread, but it was worth it in the end.
I have never used piping before and the lady at the fabric store suggested sewing the piping to one side before putting the right sides together.  I followed her advice but I'm not sure it made things any easier.  It was finicky work and since you can't really see how close to the piping the stitching is I found it annoying.  I stitched it to the front piece first thinking that would make a nicer edge on that side.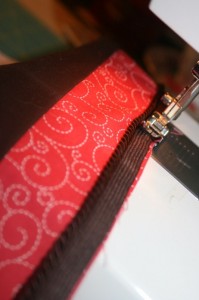 Lay the backing on with right sides together and stitch around leaving an opening for turning and stuffing of course.   Trim the corners so you'll have a nice crisp edge when you turn it rightside out.  I turned the pillow, pushed out the corners with my trusting stuffing tool (aka chopstick), use what you've got.  Then stuff your pillow through the opening.  Once it has reached it's desired fluffiness you're ready to sew it closed.  I did this part by hand just to make sure the front was kept nice and clean looking.  The backing only has to be stitched to the piping part, I was a bit picky about mine but I wanted to keep the stitches virtually invisible so I probably fussed more than I needed too.