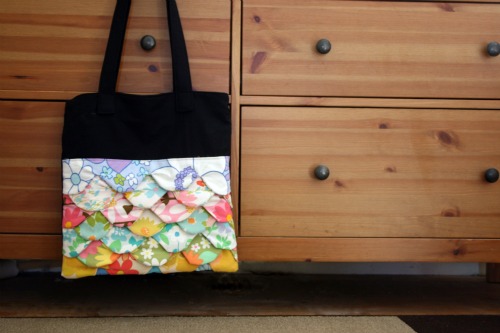 Alright I actually did my homework quickly this time. I had plans to make this Saturday with a friend and it got me in the mood for it and even when she had to cancel I forged ahead and finished it.
For my 7 scalloped pieces I used vintage linen fat quarters I've been collecting for a bit. Most of them I got from this shop and some are from this one. I had plans for a quilt or something but it won't hurt that I've cut into them a bit.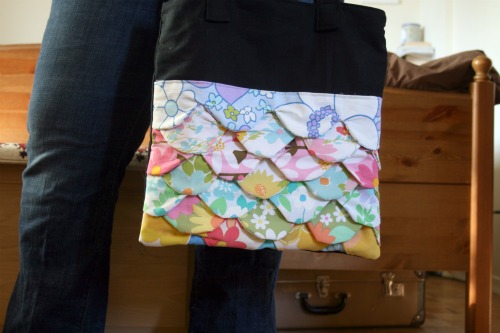 I made the rest of the bag with just plain black cotton, I liked how it looked with the flowery patterns. I also got fancy and added some interfacing and an inside pocket panel that I stitched to the lining to make with 3 sections. Sewing the scallops involved lost of needle in turning while sewing and when I turned my scalloped pieces right side out I had a lot of puckering, even after ironing. But I just strategically hid them with the other pieces and I picked the neatest one for the top row of scallops. I used some denim for the inside pocket and with the black inside a photo of this part wasn't working so well.
Actually a photo at all wasn't working so well. Home alone with 2 little ones it was tricky to get a great shot. As seen by these outtakes. Timer setting failed.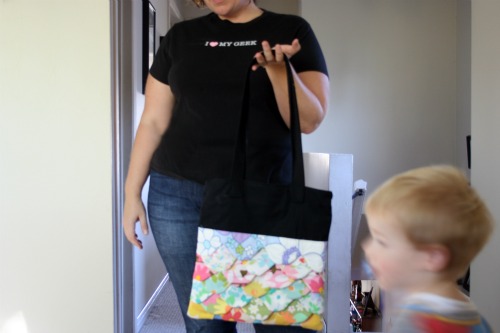 Mirror shot wasn't working so well. So then I switched to an arty attempt, which is sort of silly.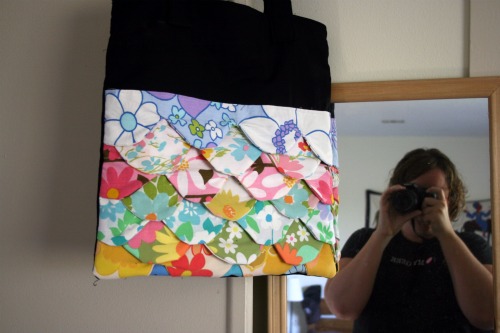 I used the bag the next day when I took the kids to a birthday party and it got some attention. Thanks again to Kate for sharing such a fun tutorial. Be sure to check out the linky party to see all the great totes everyone made. Add your own of course.
Next on my list . . . a tablerunner!
I've admired these doily table runners for quite some time.  I think with snowy weather coming for some of us it will make a great festive decoration. There's a great tutorial here, but it's pretty straightforward – collect a ton of doilies and stitch them together in a neat way. Oh and come back and share!