Wow, so I guess I was busy this week. Friday is now my full day at work, thanks to this whole day 1, 2, 3, 4, 5 thing we do in my school board, and I realized as I was drifting off last night that I hadn't actually written today's post. Then of course a day of work, a busy evening and last minute craft show prep has kept me from actually posting it. But here is my dumpling pouch a free pattern from my pattern selling friend Keyka Lou. **Her patterns are still just $5 until November 27th**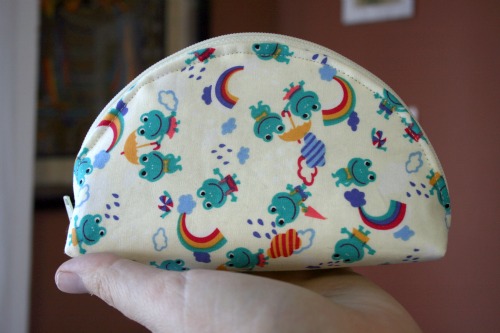 I love the fun rainbow/froggies in the rain print. For the inside I just reached into my scrap stash and grabbed something.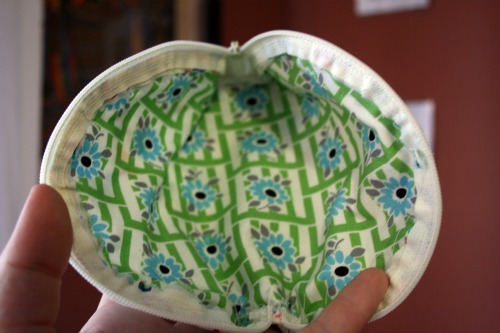 The pouch opens up ridiculously wide, it would be great for lots of little things like make up, art supplies, or crafting stuffs. The zipper goes in really well once you cut the little notches in it and my dumpling is only a little bit wonky on one side.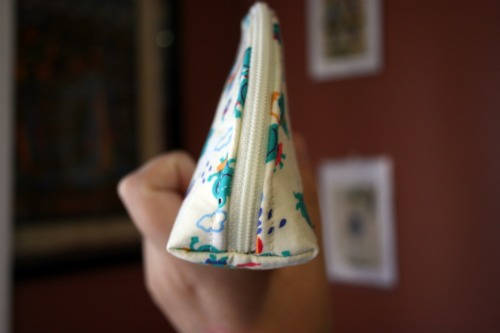 Just tilt your head a little and it looks like a really good pouch. Now I have no idea what advice to offer to get this side looking good. Maybe "close your eyes"?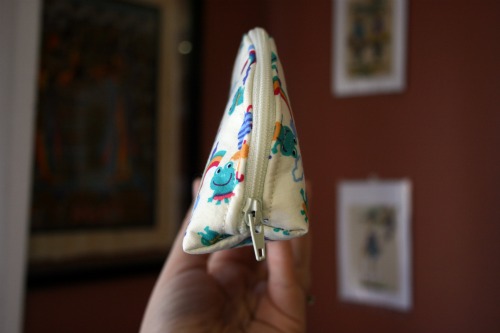 I have absolutely no stinking idea how that happened and I'm stumped on how to fix it. I've turned the pouch and tried to resew that seam and every time I turn it back right side out that one corner is all stupid. Soooo oh well I'm just going to have to live with it. However, I will be trying again once I had some spare time! But if you don't look to hard, or need the pouch to stand up on it's own it looks great!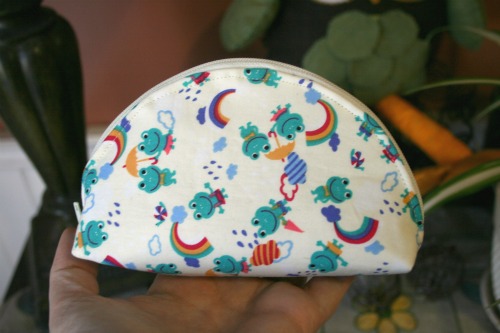 For my next trick I'm going to be sewing up one of these handy things. I'm usually fumbling for my headphones in the car to use my phone, or they get all tangled up in my purse or gym bag. I'm hoping this little friend will solve all those problems. Plus it's got no corners so I can't really mess it up too much!