I'm sending out 25 Christmas cards this year.  They're all handmade by me!
Last year I sat down and made multiple copies of the same card and sent those out to everyone.  This year, with 2 little ones underfoot, I haven't had time to be that creative so I resorted to digging through my stash of previously completed cards.  I did manage to sneak away to a card making workshop this year so I had 2o new ones to pick from.  These are some of my favourites.  I particularly like the little trend of choosing colours that aren't traditionally associated with Christmas.  It's a nice change from the usual red and green!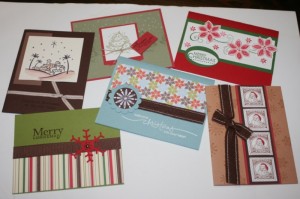 I don't remember about each individual card but I know some of them are made with Stampin'Up supplies and some are make it Close to My Heart.