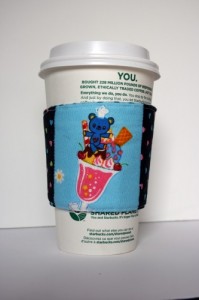 I've been toying with the idea of changing my cup cozies for a while.  They fit nicely on almost all disposable cups but I thought it was a bit of an oxymoron that they go on disposable cups at all.  I use mine on a not-a-paper-cup porcelin travel mug but I had to make one a tad bigger so it would fit around it.  Also with my design they can't go on handled travel mugs.  Sooooo I spent some time ironing out the whole button closure thing, with an elastic rather than a button hole to allow for some flexibility in the different sizes of cups out there.  Here's my scrap busting prototype.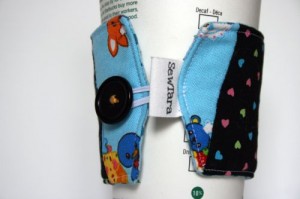 I also asked at the fabric store for something I could add to the middle to help insulate better and provide more layers between finger and hot cups.  I was introduced to a batting that has a thermal coating on one side which will help keep fingers cool and beverages warm!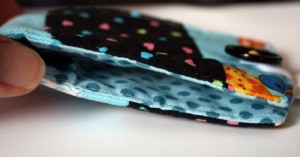 Still folds down nice and flat for easy bag/purse/tote/pocket storage when not in use and easily slides onto many different cups now!  So off to complete these last few orders.