Tag Archives:
double rainbow
I've sold a strange amount of my double rainbow pillows lately. I figured a rainbow treasury was in order.

Apparently my double rainbow pillow has been making some rounds on facebook!  Now it's like domninoes, my etsy store is getting some link love.  I'm getting emails asking me to make more.  As I list them they're selling!  It's crazy!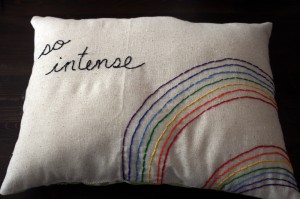 Thanks Facebook, as if you didn't already steal enough of my time guess what I have to do all weekend!  :)
I've got waaaaay too many ideas right now for the amount of hours that are in a day! I can't keep up. But I'm trying really, really hard.
Of course that means staying up silly late after the kids are in bed to finish things. Last night I managed to tidy up the ends of a few projects and today I actually accomplished listing them in my store even! I feel like I done good. Here's some of the things I listed.
Hoping to get another idea or two out of my head tonight!