I haven't really bothered to take any new pictures these last few days since I have no card reader to copy them over anyhow.  Which means tomorrow I have a truck load of things to snap photos of!  I've made a few really cute things and I need to add some items to my shop.  On top of that I still have a line up of cup cozy orders!
In the meantime I figured I'd share some things I've had kicking around but just haven't posted yet.  The first is this awesome fabric I picked up at a Mary Maxim tent sale on clearance.  It's really 50's-ish looking and so fun.  I think I may tackle turning it into a quilt, with some reds, oranges and browns.  I think it could be really nice.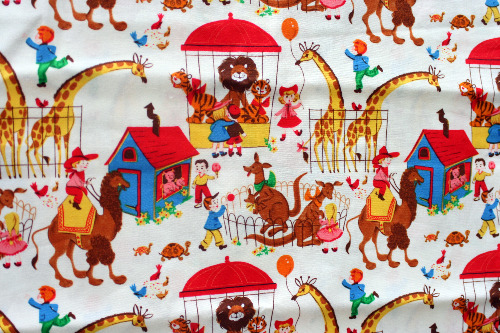 I also whipped together another pouch.  Sometimes I have what appears to be 'beginner's luck' but I don't realize it until I make the second item.  The first crayon cozy I made I used rick rack without incident.  Haven't been able to pull rick rack off properly since!
Then I made the lovely Snow White pencil case and it all turned out beautifully.  But when I made this one something wonky happened at the zipper ends and instead of nice squared corners I have rounded ones.  It's not that big of a deal but since I know it's not what I intended it bugs me.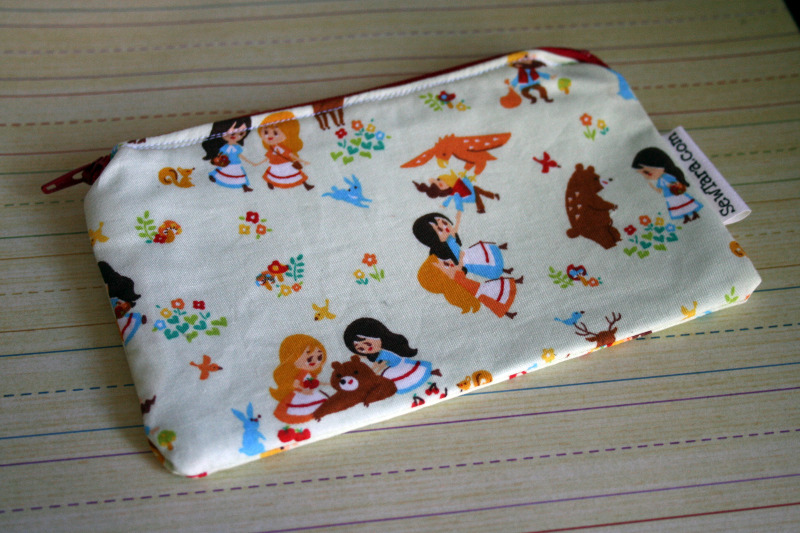 We had a street party today.  Everyone was invited and asked to bring a 'ethnic dish'.  Some people brought family recipes from way back, some people (like me) brought things they're good at making but either way it was all fantastic!!  There was waaaay too much food and a ton of desserts.  The kids all banded together to run about like maniacs from lawn to lawn.  While it was a tad cool, the weather was lovely, I just ran home to keep making teas.  I came in when the kids seemed pooped and got everyone off to bed before some TV and stitching.  Now I've switched to bed and lappy and it sounds like the party has switched to 'now that we've all drank too much lets sing along to whatever song is on'.  It's kind of funny, even with the window closed I can sort of here them, but they sound so enthusiastic and like they're enjoying themselves it's making me smile.