I really wanted to create some cool wall art, like this for our living room.  But it's a bit of an involved project that will take time to organize and make so I had a brain wave for a smaller project with the same effect, only it will decorate my cute little new craft area (once I finish organizing it).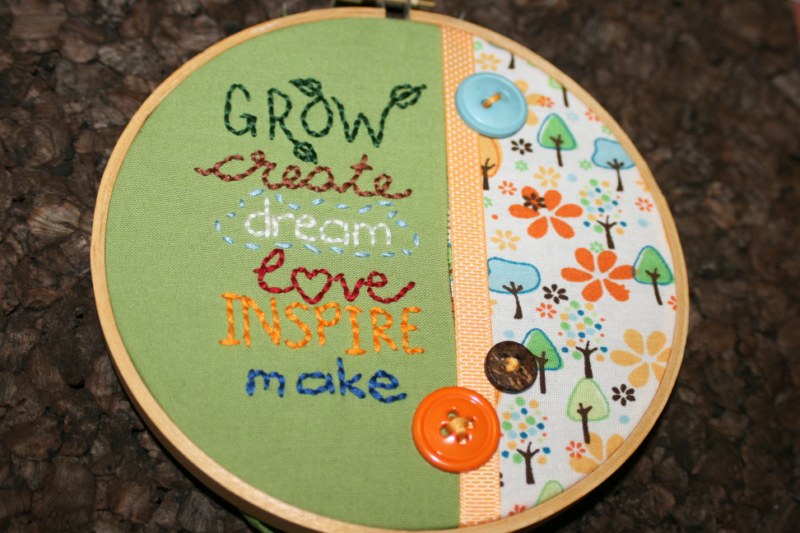 How'd I do it?  I just cut 2 circles of fabric, one green and one cute Heidi Grace patterned one and cut them in two pieces.  I though I might make another one later so I wanted some fabric ready.  Then I sewed the patterned fabric to the solid colour piece.  A while back when I needed 1 embroidery hoop I went into Value Village and picked up a back with 5 in it for some insanely low price, like $1.99 and I remember thinking, "But I only need !"  good thing I have many now.  I fit the circle into the hoop with a little cute ribbon covering the seam.
Then I sat down to think of some fun little words I could pencil onto the green that would be inspiring and motivating.  I penciled them onto the fabric, grabbed some floss I thought would go nicely and sat down to make it prettier.  I went a little free form on the leaves and heart *shrug*.  Then I added a few buttons in colours from the patterned fabric and voila!  Now I just have to get downstairs and set up the other table I picked up on Tueday night so I can begin the great craft space organization of 2010.