In the spirit of Giveaway Day, organized by SewMamaSew, I'm going to give away gave away, one of my new cozy designs!
This one fits in with the whole theme of the day and is all about supporting handmade goodies.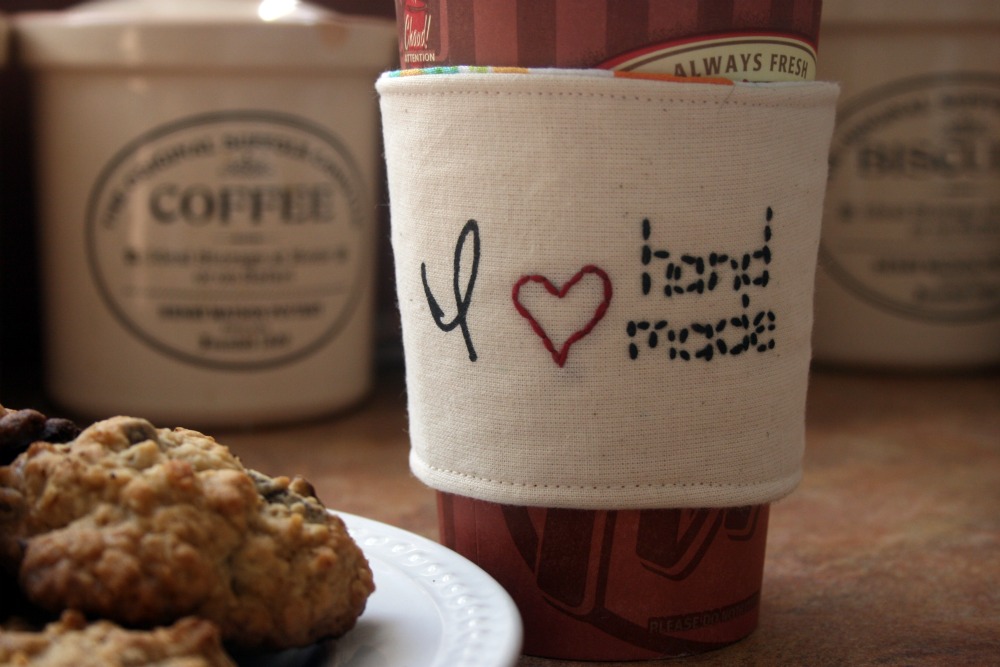 Also, since I've organized another scrap swap recently I'll throw some fun little scraps into the package too.
Simply leave a comment below! Bonus smiles from me if you say something nice.
Giveaway is open to everyone everywhere mail gets delivered until May 25th!
**WOW I have never had this many comments on one post! Does that make me seem lame? Oh well. I usually write out names on paper and choose one when I have a giveaway, don't think that's going to work this time.
It's been so great reading all these comments, thanks for all your kind words. I love all the people noticing it's a Timmy's cup!
Some questions have popped up in the comments, here are some answers,
– That is not my sewing machine, sadly, it's LAs and she took the photo
– You can use your cozy on tea. Coffee is evil (well in my opinion) but my cozies don't explode when interacting with it or anything
– I'd love to include cookies with your cozy but not sure that'd work in the mail. They are yummy little gems with hidden chick pea goodness from the Deceptively Delicious cookbook. I baked them for the photo shoot and they are sadly, long gone.
– Happy birthday if it was recently/is your birthday *please note that doesn't mean you automagically win* sorry
I've been bouncing around all the other blogs and there's some great prizes out there, and wonderful blogs. So happy I joined up this year, not sure how I missed it last year. Also really glad today was a holiday for me, it gave me time to click and comment!
Please feel free to add me on Twitter, follow me on Pinterest or come back again. I'd love to keep seeing everyone.