and I'm going to use this thing until it falls to pieces in my hands! My goodness this was a crazy sewing project! Who's idea was this!?!
Ok so I have to tell you I did have a great time sewing my wallet. I learned some new things, I found it ridiculously finicky at times and I don't know if I'll be making another one anytime soon but I'm really happy with the finished product.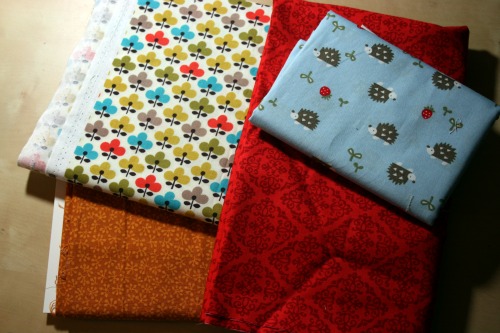 It started with some fabric debating, at this point I actually thought I might make someone one for a gift as well. I decided on the fun fabric and set aside the more grown up one for later, yeah right. Now I have a few work in progress pics and my wallet is done so I'm a superstar as far as all that's concerned. Where I totally suck is that I missed the chance to take some good photos of it today, my son's birthday & party are tomorrow, and I was ridiculously busy today. Add to that the fact I took my class to the zoo all day yesterday and had a 'Daddy was out' night last night and I'm totally exhausted. Here's a little flash ridden peek at what I did and I'll post lovely pics ASAP.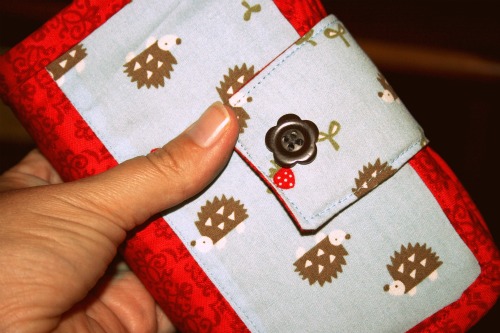 I deviated from the pattern, as I usually do at some point, and added a magnetic snap and cute little button. I'm happy with it and it's super adorable but boy was it challenging!! I'd love to see/hear about your experience with this pattern.
Here's my next proposition and good news, it's free! It's a fun little coin purse tutorial, however I plan on using it as a wee portable sewing kit since I do a lot of crafting on the go. It's the creation of the wonderful and inspiring Rashida Coleman-Hale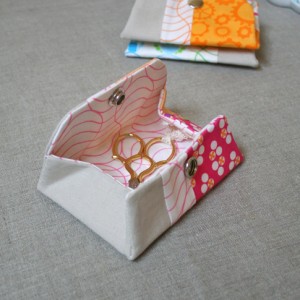 I think it will be a nice quick project and another bonus point is you can use up some of your scraps. So get sewing and I think over the weekend I'll get a Flickr group up and running for this creative party I'm starting to run. I'll also post much better pictures of my wallet. I promise.