A few years ago I lost a bunch of weight eating very little carbs. I've since found some of that weight and sort of kinda try to keep the low carb habits going. It's a challenge I find being busy, on the go, with the kids and eating at work. Once place I really try to keep it up is with treats and sweets. I have a load of low carb (or adaptable) recipes on my Food Pinterest board.
These are a fav. I've adapted the recipe from Averie Cooks post here. She also links to her original recipe, which she improved upon by making them double chocolate.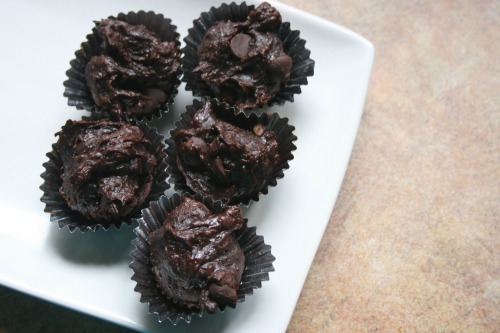 I DO NOT make these in my blender. I tried that the first time and it was just waaaaay too difficult to clean that thing out afterwards! Her's are dairy free but I tend to just use mini chocolate chips I have on hand at times. I also use whatever nut butter I happen to have. My cousin works at Nuts To You so I get to try a lot of different types.
Here's my minty take on Averie's recipe.
INGREDIENTS
1 medium banana
1 large egg
1/2 cup nut butter
1/3 cup unsweetened cocoa powder
3 tbsp honey
1 tbsp vanilla extract
1/4 tsp baking soda
1/2 cup mini chocolate chips
DIRECTIONS
Preheat to 400
Blend all ingredients (reserve a small amount of chocolate chips)
Put in lined mini cups
Sprinkle with chocolate chips
Bake 8-12 mins
VARIATION
I love, love, love to add 1/2 tsp mint extract to mine