I got mail today!! *insert happy dance here* It's from my Style School buddy, Peptogirl. I shopped in her store. I'm a good Style School buddy.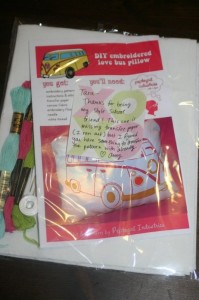 I'm resisting packing it to take to work as I will probably spend my entire lunch hour stitching and not get any prep for my classes done.
I also found a clock to reface for Style School. I have my idea all planned out, but it involves spray painting the clock and I get in trouble to stinking up the house so I have to be strategic about when I do it. It's a bit bigger than I was thinking but it was on clearance and has a flat front.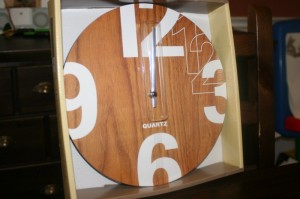 And in an entirely uncrafting related segment may I present my son Nate eating chocolate pudding on his own. Monday was Family Day here and *most* people had the day off to spend with their . . . families! All four of us stayed in our jammies all day and just puttered around the house doing what we wanted, with some olympic watching couch snuggles here and there. I invited my mom for dinner, because she's family, and pudding was dessert. Needless to say Nate was the one who broke our jammie day and ended up needing a change of clothes, and a bath!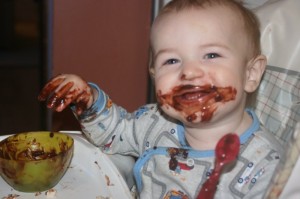 It's a tad out of focus but I had to act quick as he was flailing that spoon about a little too much.