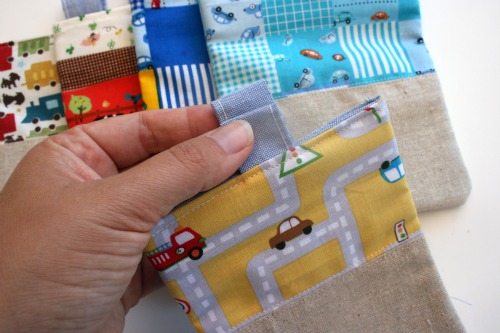 We've been making the switch to glass and stainless steel lunch containers. Both my school and my son's school push for the whole literless/boomerang lunch thing. Bomerang lunch basically means if you send it in packaging or it creates some sort of garbage they're going to send it back home to you. Strangely we teacher folk are free to load up the garbages at school with our lunch litter but I'm trying desperatly to avoid that. Hence my binge to create some snack pouches!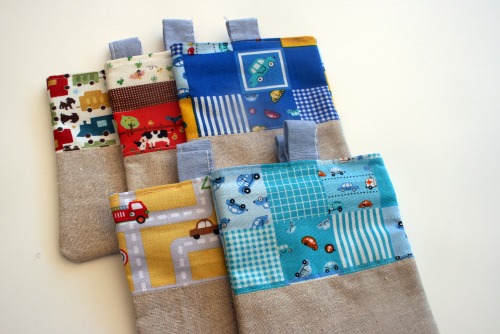 Now I created a few for my son and I'm going to show you how to make some yourself. I was really hardcore with his and used parts from one of my hubby's practically new shirts. Somehow he got a weird big circle stain on it right in the front and tossed it into the donate pile. I rescued it.  Oh, lookie a Mabel's Label.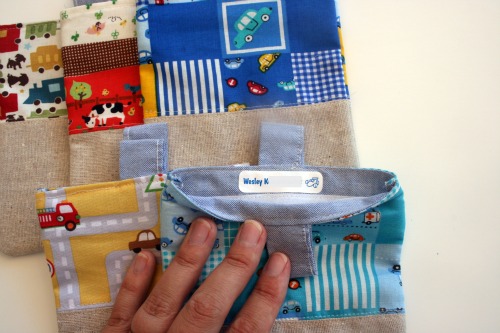 I also tried to use fabrics I had on hand and chose some of the bright colourful kid prints I have to jazz the pouches up a bit. There some debate online about materials to use for the inside and what is and isn't food safe. To just avoid having to buy something or find out later what I chose was wrong I'm sticking with cotton fabrics. If you plan on carrying something that could get things wet I suggest adding a layer between the inner and outer cotton pieces to help prevent everything else in your bag getting soaked. Cutting up a freezer bag would work great for this and you could probably get a few out of just one.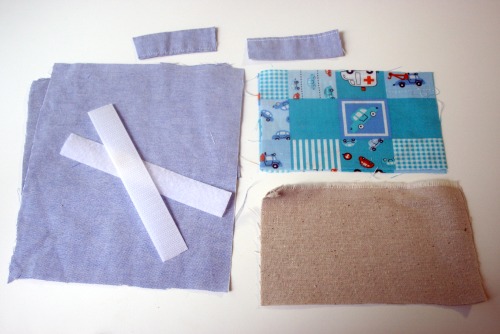 You will need:
– lining fabric 4 1/2 x 6ish
– printed fabric for outside about 4 1/2 x 3 1/2
– plain fabric for outside 4 1/2 x 3 1/2
– 4 inch length of velcro, hook & loop piece
– strip of fabric to make tabs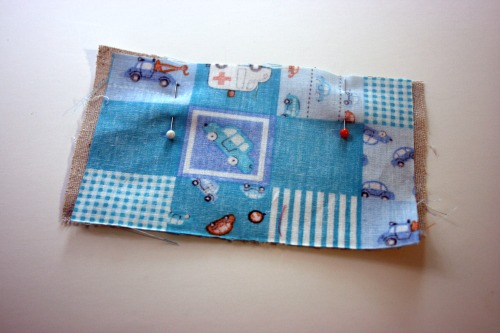 Pin the 2 outside fabric pieces right side together and sew together. I use 1/4 inch seam, or slightly less.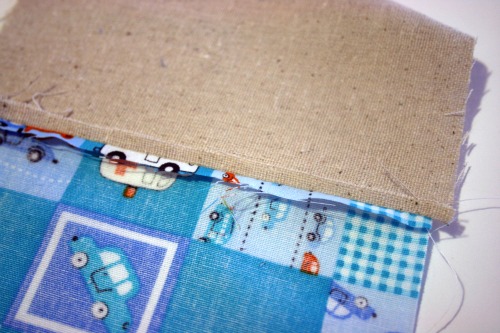 Unfold the pieces and press the seams flat.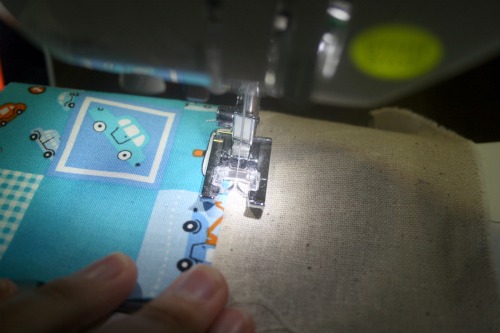 Stich on the rightside of the fabric to each side of the seam.  This will help reinforce where the fabrics are joined and adds a nice little decorative stitch.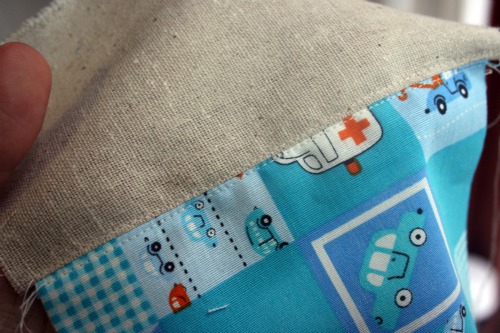 Because I repurposed an existing garment I didn't have to make my own little tabs but if you do it's really simple.  Take 2 pieces of fabric shaped like rectangles and fold it in half so it's a long piece and then sew down the edge. Turn it right-side out and you should have a nice long thin rectangle.  If you want the little decorative top stitch mine has you can just do a straight stitch down one side.  Trim one tab so it's slightly shorter than the other.  I've found it's easier to separate them when opening the pouch.
Fold your tab piece in half and sandwich it between your lining and outside piece, placed right sides together.  Sew through all 3 pieces.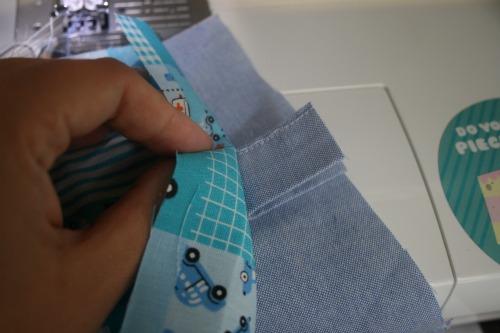 You should now have this sort of looking thing, with your tab sticking up.  Now position the velcro about 1/4 – 1/2 inch from what will be the top of your pouch.  Stitch along at least the top and bottom of the velcro, you can do the sides too if you like.  Secure the velcro on the opposite side of the pouch, measuring them against each other to get the positioning correct.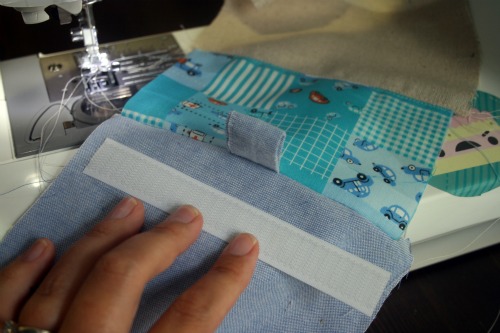 Fold the pouch over completely so the outside is outside and you're looking at the lining.  Press to get a nice clean edge and then topstitch along near the edge of the pouch.  This will create a nice finish stitch on the inside and outside and reinforce the tab.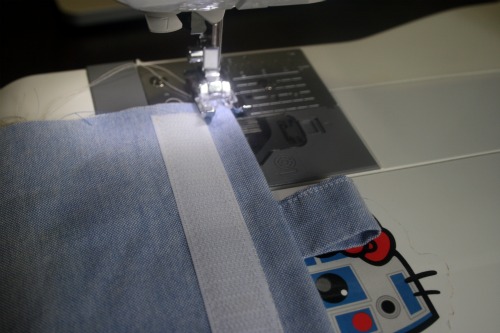 Once you've completed all these steps for both sides you should be left with something that looks like this.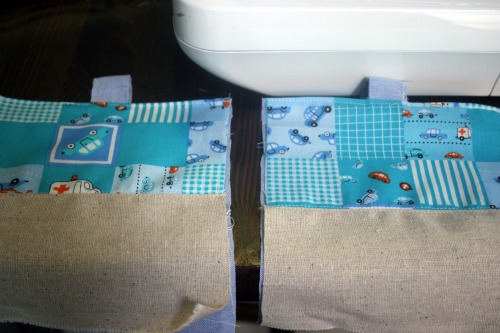 Place the 2 pieces with the outsides together and stitch all the way around 3 unfinished sides.  This would be a great place to use a serger if you have one.  I don't so I just went back and did a zig zag stitch just beside the straight stitch and then trimmed the fabric really close to the stitching.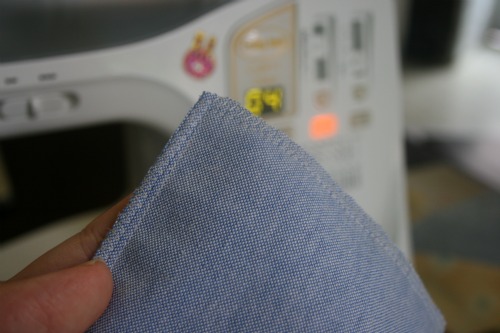 These are really fun and easy to make.  It's a great way to use up some scraps.  I'm thinking of making them to use as loot bags for my son's birthday party this year, then the kids leave with some goodies and a fun little reusable snack pouch.  Since things will only be in there a few hours I'm not worried about them getting stale but if you were, or plan to put wet-ish snacks in there, then you can put a water resistant lining between the fabrics.
Also, I'm going to tease you with a little fun embellishment you could add to these.  You'll have to come back tomorrow for the full explanation.  All I can say now is it involves a guest post and it will kill you with cuteness.