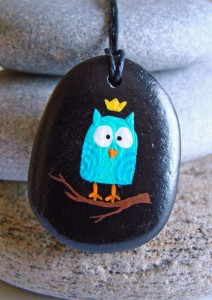 As if playing around on etsy isn't dangerous enough already, the other day while poking around I clicked 'shop local' and stumbled onto some pretty neat stuff. My favourite was JewlezyBug so I'm sharing her first! Julie has created some really cute characters and uses some interesting materials. She paints on rocks to make neat pendants and uses pages from old books and phone books as the canvases for her whimsical paintings!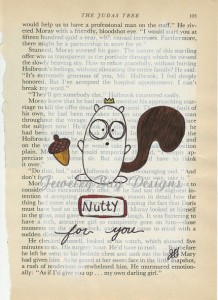 I sent her a message on etsy and she seems really fun and agreed to do a GIVEAWAY!!!!! Soooo free stuff to someone who's in need of cuteness! Julie is willing to giveaway one of her prints, see them all here in her flickr pool, just leave a comment here telling us which one is your fav (they're numbered 1-90). I like this little guy.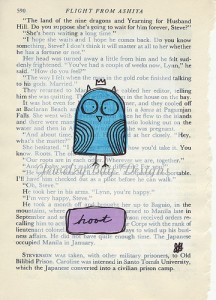 I asked her a little bit about herself and she sent this little blurb, thanks for sharing!
"I have always doodled and painted for as long as I can remember. I am drawn to bright colours and happy motifs that catch the eye and make you smile. I like my art to make you feel good and brighten your day. I use old books and phone books as my back drops because they visually stimulate the eye and provide texture to the art. I feel my art is a reflection of my inner child just wanting to play. I take inspiration from colour, from my day, nature, from the people in the my life and from my furbabies (4 cats and 1 dog: Jewels (hence the name!)"
She also has a blog where she shares her new creations, fun crafts and her cute animals. I love these ribbon curtains she made.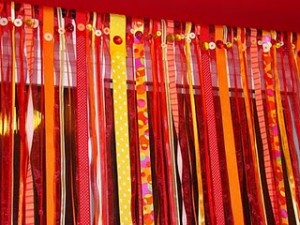 I'll do some magical random winner picking Sunday night and announce Monday morning! Ohhh the suspense, I'd better set my iphone alarm . . .