I've been a bad blog owner, forgive me. My fun package for the Camp Themed Swap that Amanda so willingly ran for me and a group of lucky ladies arrived . . . . 2 Fridays ago. It took me until Sunday to even open the package, I've been sooooo busy lately it's been insane. Hence the blog absence. I've been frantically making cup cozies, yes still! Everywhere I go I'm pulling out some stitching, it's a little crazy. I've finally made it into my September orders and I only have about 20 more to make. I sat around all summer on vacation and of course my shop had to go viral (for the second time) right when it was back to school time!
Anyhow, enough ranting, here's what I'm supposed to be writing about, my haul!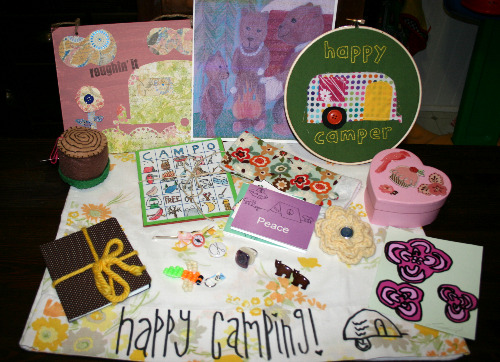 Going across the rows – back row –  a fun mixed media painting, a print of a drawing of three bears camping and some awesome hoop art with a happy camper.
Middle-ish my log pin cushion, a CAMPO game, a fun floral case for glasses, some camp themed stationary, a crocheted flower hair thingie, and a heart shaped box.
Front-ish – a little note book with graph paper and camp themed stickers in it, a compass hair pin, a firefly keychain, a button ring,  brown bear earrings, and a signed original piece of art work.
All placed on top of a vintage pillow case sending me happy camping wishes!
Here's some close ups,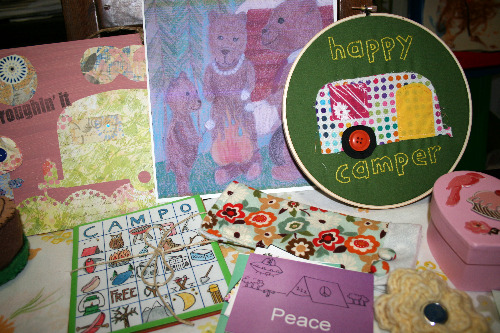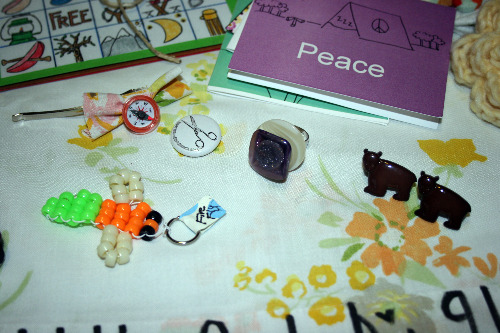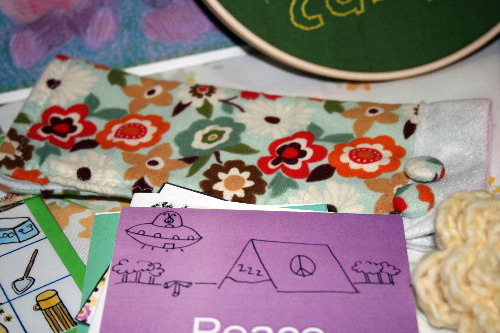 It was such a fun thing to be involved in.  At first I wondered what on earth we would all come up with for camp themed crafts (especially as someone who's never been camping) but we did all right!